Radio NZ video news feed of the Hager and Stephenson media conference last night. YouTube
Author and investigative journalist Nicky Hager and war correspondent Jon Stephenson have teamed up, in a book released last night, to tell the story of a dark and guilty secret of New Zealand's recent history.
The book is about what the New Zealand military – and especially the Special Air Service (SAS) – did in Afghanistan in response to the first New Zealander dying in combat in August 2010.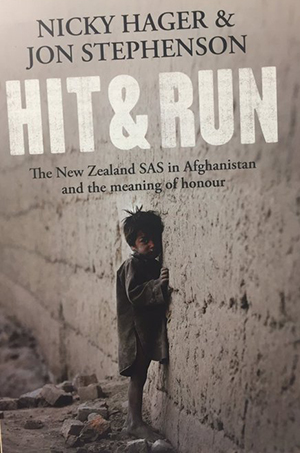 The book, called Hit&Run, was released at a book launch at Unity Books in Wellington.
It was written by Nicky Hager following a long collaboration with Jon Stephenson, who brought the majority of sources to the project. For more than two years, they gradually gathered and pieced together the evidence.
The book describes a series of operations which proved to be ill-conceived, tragic and disastrous. These included an SAS attack on two isolated villages in Afghanistan's Baghlan province where they mistakenly believed they would find the insurgents who had attacked a New Zealand patrol 19 days earlier in neighbouring Bamiyan. SAS officers commanded and led the attack, supported by US and Afghan forces.
The insurgent group was not there. Instead, at least 21 civilians were killed and injured – many of them women and children – and the SAS and US forces burned and blew up about a dozen houses. The SAS also failed to help the wounded. The Defence Force and government then tried to keep the whole thing secret.
They have never admitted nor taken responsibility for what they did.
Second raid
In a second raid on one of the villages about 10 days later, the SAS destroyed more property. When they eventually caught one of the targeted insurgents in Kabul he was beaten before being handed to the Afghan secret police and tortured.
Fragments of the story have reached the public before but the vast majority has remained secret until now. It is much worse than anyone knew. As former Chief Human Rights Commissioner Margaret Bedggood says, there needs to be a full, principled and independent inquiry into the actions described in this book, which, if confirmed, would seriously breach international law.
Hit&Run is based on numerous and extensive interviews with people involved in these events, including New Zealand and Afghan military personnel as well as residents of the villages. All wanted this story told to recognise the dead and the injured.
"This story also needs to be told to ensure our military is held to account for its actions," says Hager.
"Whether or not the public agreed with New Zealand sending troops to the US-led war in Afghanistan, there is no doubt that what the SAS did was wrong and betrayed the defence force's core values of courage, commitment and integrity."