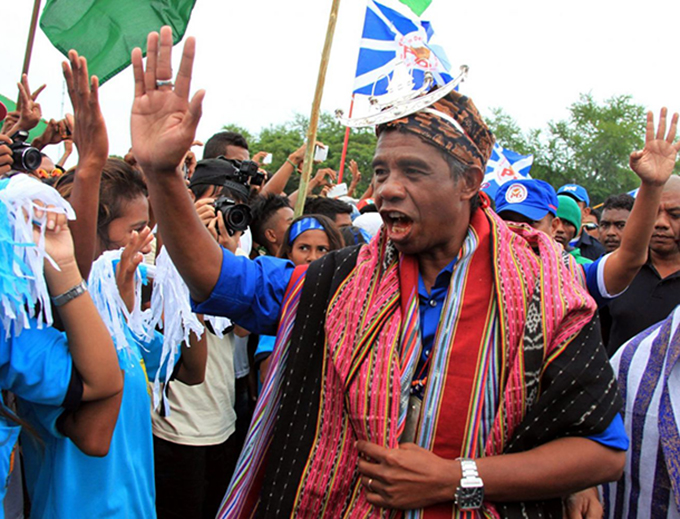 People in Timor-Leste went to the polls yesterday to elect a new president. Their choice was between eight candidates with former guerrilla fighter Francisco Guterres, nicknamed "Lu-Olo", expected to win, reports RFI English.
Backed by Fretilin, the party that led the revolutionary struggle to the country's independence, Guterres was leading earlier today with 59.24 percent of votes, reports The Sydney Morning Herald.
But the Herald also reported that only 34.34 percent of votes had been counted by early today, reflecting huge logistical problems in the largely mountainous country with a poor road network.
Reuter reported that vote had come at a challenging time for the Pacific fringe nation 15 years after independence from Indonesia, with oil reserves running dry and its leaders struggling to reach agreement with Australia over lucrative energy fields.
Timor-Leste has a population of just 1.2 million people but the results will take a few days to process.
But observers are happy.
"It's been a very good election process," says Professor Damian Kingsbury, an official observer from Australia. "It's been quite well run, it has been a celebration of the opportunity and the right to be able to vote for political leaders."
This is the first election that has been run without international assistance and, although there have been some minor technical problems, it has been a very successful process.
Guterres is expected to win. He was once the general coordinator of the resistance against Indonesian rule.
Resistance leaders
"The voting result as we have right now, shows that the country's leadership is still largely dominated by high-profile resistance leaders," says Khoo Ying Hooi, of the University of Malaya in Kuala Lumpur.
Former rebel leaders Xanana Gusmao, José Ramos-Horta, Taur Matan Ruak, Dr Maria Alkateri, all became presidents and prime ministers after independence and still call the political shots.
"Back in 2012, Xanana Gusmao's influence was seen in his support of Taur Matan Ruat," says Khoo Ying Hooi. "This time around, his strong support for Lu Olu as president has proven that Timorese are still looking at history when they vote."
Timor-Leste is currently fighting another battle – this time against Australia in the courtrooms of the International Court of Justice in The Hague.
Dili is demanding access to large stretches of sea that may contain rich oilfields, potentially worth billions of euros.
With its other neighbour, former occupying power Indonesia, Timor-Leste seems to have reached an agreement.
Bilateral relationship
"There was an official decision taken many years ago that the two countries needed to establish a positive bilateral relationship," says Professor Kingsbury, who crossed the border between Timor-Leste and Indonesian-ruled West Timor to find Indonesians "very curious about the election process".
But he did not sense that Indonesia tried to influence the elections.
"Leaderships of both countries worked very hard to achieve cooperation," he says, pointing at a recently developed joint Indonesian-East Timorese police training programme.
But he says that decades of occupation that ended in brutal bloodshed before independence is still felt among the Timorese, especially the fact that significant human rights abuses by the Indonesian military were not properly addressed.
If that will ever happen, he doesn't know.
"The reality is that Timor-Leste, a very small country with only 1.2 million people is surrounded by big Indonesia with more than 240 million. So it is just a practical necessity to get along with this neighbour," he says.
Back to politics. Even though the old fighters are still dominating the scene, change may be in the air.
"A younger generation of leaders is emerging," says Khoo Ying Hooi. "Many are supporting the Popular Liberation Party."
The newly formed PLP did not field a presidential candidate but is expected to campaign in parliamentary elections set for July.