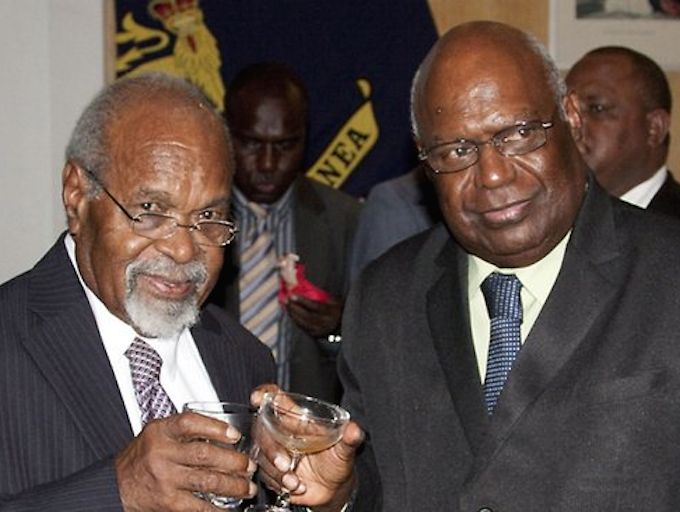 By Charles Yapumi in Port Moresby
Papua New Guinea Prime Minister Peter O'Neill has described the late Governor-General, Sir Michael Ogio, as a man of dignity and humility.
"Sir Michael served his country and people with high dignity (and) humility, as a teacher, long serving Member of Parliament, Minister of State, Deputy Prime Minister, and later our Governor- General," O'Neill said today.
The prime minister made this statement when paying tribute to the country's 9th Governor-General at his state funeral on Friday in Port Moresby.
O'Neill said Sir Michael's vast experience in public life served him well as the country's Head of State.
The late Governor-General was a teacher, and provincial and national politician, for 37 years. He died last weekend aged 75.
"The execution of his duties remains of very high standard but more humble and accessible by his people," O'Neill said.
"He has certainly laid his place in the history of our country. But more importantly the legacy he leaves behind of the work he has done in Bougainville, during the difficult period in Bougainville's history [when he] held some very important positions.
"[Sir Michael] is the most frequent travelling Governor-General all throughout our country, he had travelled widely and engaged with our people more genuinely than any others before, and he had been a worthy supporter of many NGOs, like St Johns."
The casket of Sir Michael departed for the Autonomous Region of Bougainville today before a royal guard of honour by PNG Defence Force personnel in Port Moresby.
Grand Chief Sir Michael Ogio is survived by his wife Lady Esmie Ogio, five children and 8 grandchildren.