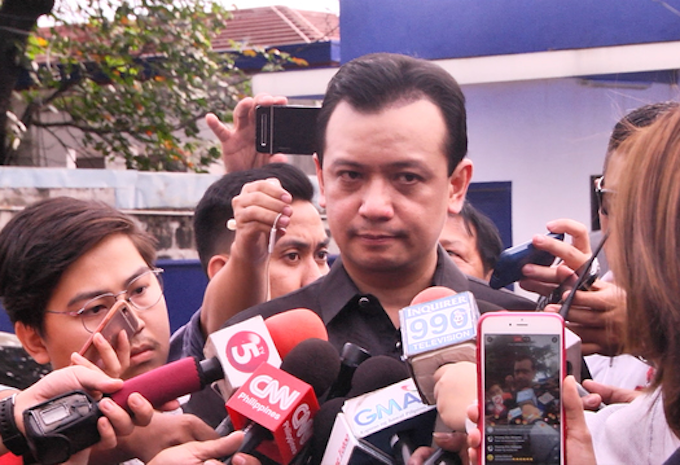 By Lian Buan in Manila
After visiting Senator Leila de Lima in jail, Senator Antonio Trillanes IV said that he will stop at nothing to make sure Philippine President Rodrigo Duterte also serves time in prison.
"Hahabulin ko 'tong si Duterte, the moment mawala na sya sa poder ng kapangyarihan, ipapakulong kita, hahabulin kita," Trillanes said outside the custodial center of the Philippine National Police (PNP) where De Lima is detained over drug charges.
READ MORE: De Lima detained in Camp Crame
Aside from pushing for the investigation of the alleged Davao Death Squad (DDS), Trillanes is also accusing Duterte of having an undeclared wealth amounting to as much as P2.4 billion (NZ$66.4 million).
Trillanes said he is not at all unfazed by what happened to De Lima, who, like him, is a staunch critic of the Duterte administration.
"Ako ang susunod? Plano nga nila akong unahin e, pero sige – bring it on, do your worst," Trillanes said.
(I'm next? I was supposed to be their first, but bring it on, do your worst.)
He added: "I am motivated more than ever, mas ginaganahan ako na iexpose itong pagkatao ni President Duterte na siya ay isang mandarambong at mamamatay tao, hindi ako titigil hangga't hindi namumulat ang sambayanang Pilipino, talagang pananagutin natin siya, hahabulin at hahabulin ko siya, hindi ko siya titigilan."
(I am motivated more than ever to expose the true character of Duterte, that he is a plunderer and a murderer. I will not stop until the Filipino people realise this. We will hold him accountable, I will run after him, I will not quit.)

'Lascañas making them nervous'
Trillanes said the Senate will start hearing the testimonies of retired Davao cop SPO3 Arturo "Arthur" Lascañas on Thursday.
Lascañas is in the center of the scandal tagging Duterte in the vigilante group "Davao Death Squad" (DDS), accused of killing more than a thousand people in Davao City when Duterte was mayor.
The retired policeman denied the existence of the DDS last October 2016, calling Edgar Matobato a liar, but turned around on his word last week and divulged in some detail some of Duterte's alleged kill orders, including broadcaster Jun Pala.
"Palagay ko diyan sila kinakabahan talaga e, nangangatog na mga tuhod ng mga ito dun sa hearing na gagawin sa Thursday," Trillanes said.
(I think they're nervous, their knees are shaking thinking of the hearing on Thursday.)
"Malalaman na ng mga kababayan natin kung anong klaseng tao, anong klaseng monster si President Duterte," he added.
(Our countrymen will know just what kind of a person, a monster, President Duterte is.)
Encouraging dissent
Trillanes said that the administration failed in its attempt to scare off critics of the government.
"Heto sana yung ayaw nilang mangyari, kaya nga nila ginawa yung illegal arrest at persecution na ito para nga sana matakot ang mga kalaban ng administrasyon, kabaliktaran yung nangyari. Ang ordinaryong tao, lumalakas ang boses," Trillanes said.
(This is what they didn't want to happen, they orchestrated this illegal arrest and persecution to scare off the critics of the administration, but the opposite happened. The voices of the ordinary people are getting louder.)
According to Trillanes, De Lima also feels motivated despite being in prison.
"She's in high spirits at hindi natitinag ang kanyang conviction, tuloy ang kanyang laban, inassure ko siya na lalong lumakas ang voices of dissent," Trillanes said.
(She's in high spirits, her conviction has not wavered. Her fight continues. I assured her that the voice of dissent has become louder.)
Rebellion charges
Trillanes was himself also jailed on rebellion charges, but managed to win as senator in 2007. He was granted amnesty in 2010 by former president Benigno "Noynoy" Aquino III, which enabled him to legislate as a free man.
Trillanes said he gave some advice to De Lima on how to effectively perform her functions inside jail.
"She can file resolutions and bills, she can issue statements but she will not be allowed to vote and interpellate.
"I was allowed back then by President [Benigno] Aquino [III] to conduct a committee hearing inside prison, but I doubt it if President Duterte will allow her," Trillanes said.
Lian Buan is a journalist with Rappler.