The Schlumberger seismic survey vessel, Amazon Warrior, seismic blasting approximately 120 nautical miles off the East Coast of New Zealand's North Island. Video: Nigel Marple/Greenpeace
Greenpeace NZ has released aerial footage from a reconnaissance flight of the world's biggest seismic ship, the Amazon Warrior, blasting for oil 120 nautical miles off the Wairarapa Coast.
The reconnaissance is the latest stage of the organisation's surveillance and monitoring of the ship, which will be searching for oil on behalf of Chevron and Statoil for the next several months.
Greenpeace climate campaigner, Kate Simcock, said in a media release the goal of the surveillance was to show New Zealanders what the government is allowing to happen far out of sight in our oceans.
"In order to find oil, this ship is blasting sound waves through the ocean into the seafloor every 10 seconds, 24 hours a day, from arrays that are the length of 80 rugby fields," she said.
"This is the very oil that science says can't be drilled and burnt if we are to avoid a climate catastrophe.
"The oil industry describe these blasts as comparable in sound to an underwater volcano: Just imagine how distressing it is  to the dolphins and whales for whom this ocean is their home," Simcock said.
"It's a complete betrayal that our government has invited this climate-wrecking beast to roam our unique coastlines. This is a wilful attempt to threaten the future of our children and grandchildren all in the name of short term profit for a select few."
An unprecedented alliance of Māori communities have voiced opposition to deep water drilling on the East Coast.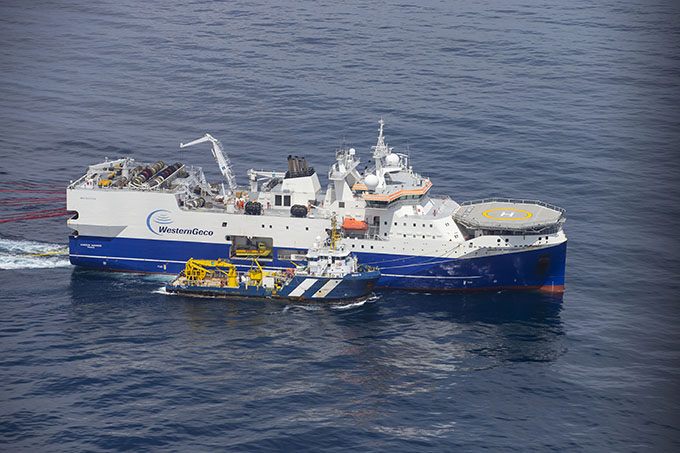 Almost 70 Māori hapū from Cape Runaway to Kaikoura have called on Statoil and Chevron to cease their operations and leave New Zealand. More than 10,000 New Zealanders have signed on to the letter.
In the last month, Auckland Council, Christchurch City Council, Environment Canterbury, Dunedin Council and Gisborne Council voted to oppose offshore oil prospecting, exploration and drilling.
"With the change of prime minister, the government should quit this mad oil program once and for all.  We're calling on new Prime Minister Bill English to face the planetary climate emergency and listen to iwi, public and local government opposition, and ditch deep sea drilling now."
Simcock said Greenpeace made the 120 nautical mile trip to find the seismic blasting ship because it seems to have been avoiding coming into port where it could face protest.
This included illegally switching off its mandatory AIS tracking safety device for days on end, throughout the 7.8 earthquake and tsunami threat, and having people and supplies delivered to it by boat and helicopter.
"The Marine Mammal Impact Assessment (MMIA) was also not published until we asked for it. These examples highlight why it's more important than ever to have citizens monitoring this climate-killing industry. They're clearly not being regulated well by the government.
"This oil exploration machine may think it can avoid making land in New Zealand, and do its dirty business out of sight and out of mind, but we want them to know it's not safe from protest out on the ocean either. The Amazon Warrior can run but it can't hide – we have it in our sights.
"Our message to the government and the oil industry is this: The ocean isn't as big as it may seem.
"We will show New Zealanders exactly how you are blasting our marine environment and causing distress to our unique whales and dolphins – all in the name of climate-wrecking oil – and we will peacefully resist you until you leave our waters."