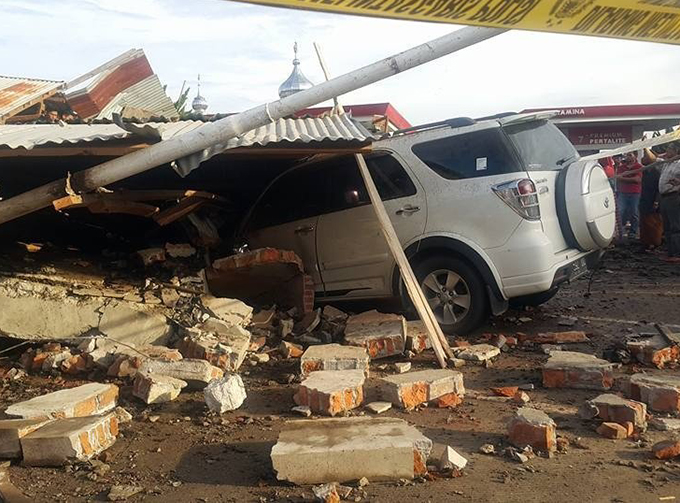 By Hotli Simanjuntak in Banda Aceh

An earthquake measuring 6.5 on the Richter scale hit Aceh in Indonesia early yesterday morning, destroying buildings in Pidie Jaya regency and a rising death toll.
It was reported that several buildings, including the dome of the Dayah Mudi Mesra Samalanga Mosque, a coffee shop in a gasoline station and a building of STAI Al-Aziziah Islamic University, collapsed during the quake, which had its centre at a depth of 10 kilometers.
President Joko "Jokowi" Widodo has ordered government institutions to support the rescue efforts as news agencies reported at least 102 deaths and injured hundreds.
"I have instructed government institutions to carry out an [evacuation]," the President said on Wednesday.
Strong quake hits off Sumatra, people rush to high ground
Pidie Disaster Mitigation Agency head Apriadi said his agency had been monitoring the earthquake, which occurred at 5 am in the neighbouring regency, admitting that the rescue efforts were hampered by a lack of equipment.
"The heavy equipment is at other agencies. It's difficult to quickly deploy, but our officers are ready anytime," he said.
The earthquake was also felt in Takengon in Central Aceh regency, Banda Aceh and Bener Meriah regency. Takengon residents reportedly fled from their houses amid the quake.
Residents in some areas of North Sumatra also felt the quake.
Hotli Simanjuntak is a Jakarta Post journalist.