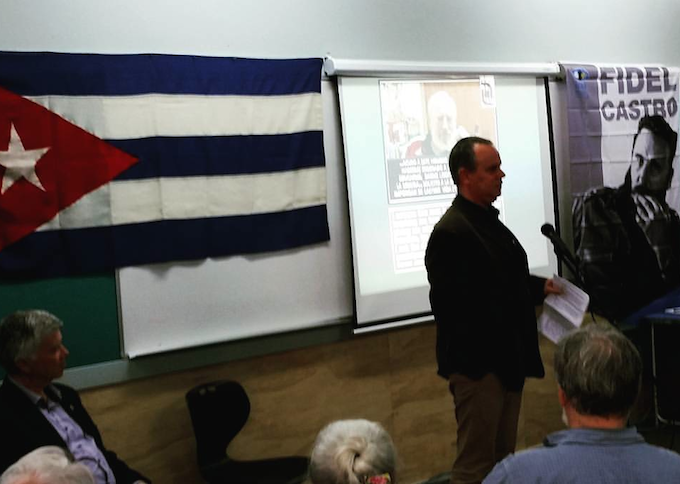 By David Robie in Auckland

Cuban revolutionary leader Fidel Castro's contribution to global social justice and dignity, and to developing nations worldwide – including the Pacific, was praised in New Zealand tonight.
Activists, politicians, academics, journalists, teachers, trade unionists and community workers were among about 100 people gathered at the Auckland Trades Hall to hear Cuban Ambassador Mario Alzugaray and other speakers give tributes to Castro's life.
Alzugaray challenged the audience to continue Castro's half century of struggle for a better society: "The best way to remember Fidel is to carry on his legacy and keep it alive."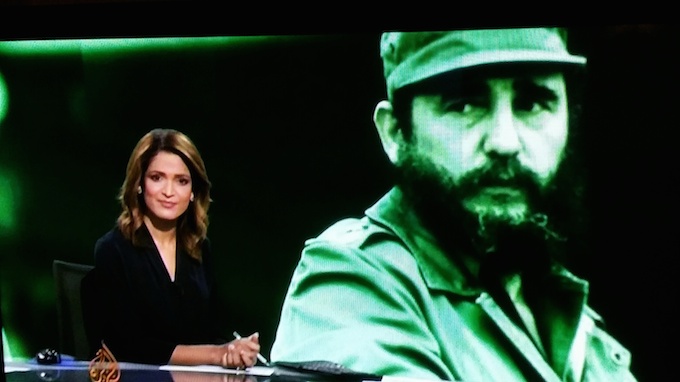 The ambassador said Castro had social justice at the core of his ideals and action.
"He was an internationalist since the very beginning," Alzugaray said.
"He was involved in every movement connected to the anti-imperialist struggle in Latin America."
Before and after the Moncada garrison attack in 1953, Castro had recognised the importance of launching an appeal to the Cuban people.
Revolutionary spark
The Moncada garrison in Santiago de Cuba was named after General Guillermón Moncada, a hero during the war of independence against the Spanish.
The attack by a small group led by Castro failed but this is regarded as the spark that fired the socialist Cuban Revolution, which eventually overthrew the brutal dictatorship of Fulgencio Batista six years later.
Castro died, aged 90, on November 25 and his funeral will be in Santiago tomorrow after the four-day cortege around the country.
"Fidel was the first one to effectively and successfully unite Cubans around the revolution," Ambassador Alzugaray said.
The envoy praised Castro's social policies in Cuba, such as agrarian reform, education and health.
"Fidel's determination and involvement in international affairs made him possibly the most important leader to look after and represent the interests of developing nations," Alzugaray said.
"His influence is huge and although CNN and other media organisations are trying to focus on the reaction of Cuban-American extremists in Miami, there are millions of people mourning the death of Fidel."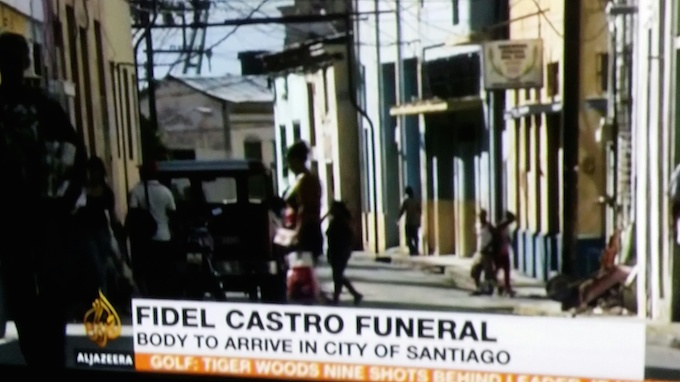 Media 'bias'
Alzugaray was critical of the "bias" of many news media in New Zealand and other Western countries.
"I was asked if Fidel was divisive. We live in a divisive world," Alzugaray said.
"Greed and personal interest are driving society in many parts of the world.
"It is completely biased to raise this opinion and to be silent about the United States embargo and permanent hostility towards Cuba."
Alzugaray said people had to decide whether they were on the side of the poor, starving, or the rich and powerful. Fundamental rights needed to come before a narrow Western concept of human rights.
"What Western powers and oligarchs can't forgive is the huge impact of Fidel's personality and, more importantly, his ideas, in international politics.
"Most of us will have people supporting or expressing their dissent. You just have to decide which side you're joining.
Issues of humanity
"Fidel was very much involved in every important international issue affecting humanity.
"Environment, international financial order, independence and liberation movements, peace and global disarmament as well as human development as a comprehensive concept are some of the issues.
"He understood you can't be poor, starving, homeless or lacking the fundamental right of proper access to public health and considered being part of an effective democracy."
"Fidel never took a rest. He was until the end very much involved in food security issues."
Other speakers included Unite Union director Mike Treen, of the Cuban Friendship Society, organisers of the celebration, who said Castro had played a central role as a leader of the Cuban revolution for more than 50 years.
"In that time Cuba has literally saved the lives of millions of people through their medical aid programme," he said.
"They have helped liberate southern Africa from apartheid and colonialism. They have ended illiteracy in their own country and repeated the practice across the globe.
"They have helped create the possibility for other countries in Latin America and the world to join them on the march to national independence and social justice."
Treen also praised Castro's support for independence movements in the Pacific, such as in Vanuatu and Kanaky/New Caledonia, and health care in Timor-Leste and across the region.

Cuban Ambassador Mario Alzugaray speaking at the Auckland Trades Hall tonight.
Video clip: Café Pacific