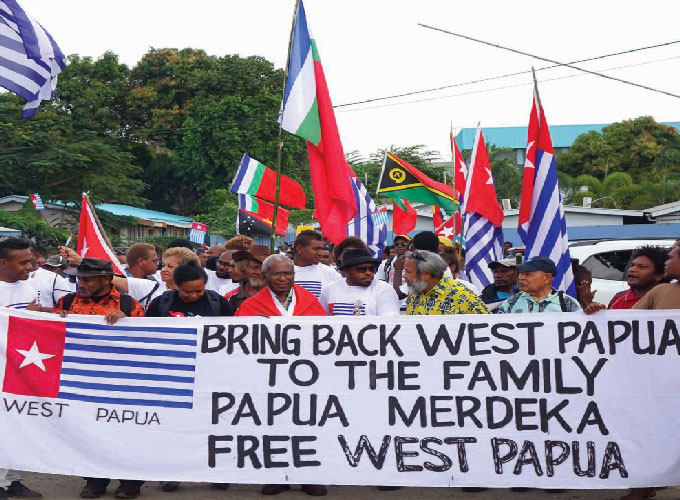 A new report detailing the human rights abuses in West Papua has been published this week. The research aims to convince Pacific leaders on providing full membership of the Melanesian Spearhead Group (MSG) to the United Liberation Movement for West Papua (ULMWP).
A Historic Choice: West Papua, Human Rights and Pacific Diplomacy at the Pacific Island Forum and Melanesian Spearhead Group also supports a request before the Pacific Island Forum for an international human rights fact finding mission.
It covers the period between January 2014, when a delegation of MSG Foreign Ministers' visited the territory, and July, 15, 2016, the day after MSG Special Leaders meet in Honiara and decided to defer a decision on the ULMWP's application for full membership.
The findings of the report depict a detailed picture of the human rights violations against the people of West Papua carried out largely, but not exclusively, by the Indonesian police.
It provides a summary on the conflict; mindful that many in the Pacific and the world are still not aware of the human rights issues surrounding West Papua.
An abstract from the report:
"Human rights violations in West Papua, particularly denial of the West Papuans freedom of expression, has dramatically increased since the formation of the ULMWP in Vanuatu on the 6th of December 2014. The ULMWP and their supporters in particular are being targeted by the Indonesian state.
"In 2014, prior to the formation of the West Papuan umbrella group, 105 people were arrested for nonviolent political activity. In 2015, 710 people were arrested for unarmed political activity in support of West Papuans right to self-determination.
"According to data provided by the Papuan Coalition for Human Rights and the Legal Aid Institute in Jakarta, by July 2016, 4,198 West Papuans were arrested, an increase of more than 4000% since the MSG foreign minister mission in 2014. Disturbingly, that data is only for the first half of 2016.
"All of these arrests 8 were for nonviolent actions – handing out leaflets, public oration, displaying banners, and participating in public demonstrations – calling for the ULMWP to be granted full membership of the Melanesian Spearhead Group. Most of those arrested were young people, of high school or university age. Even primary school aged students as young as 11 years old were also arrested by the police for participating in nonviolent action."