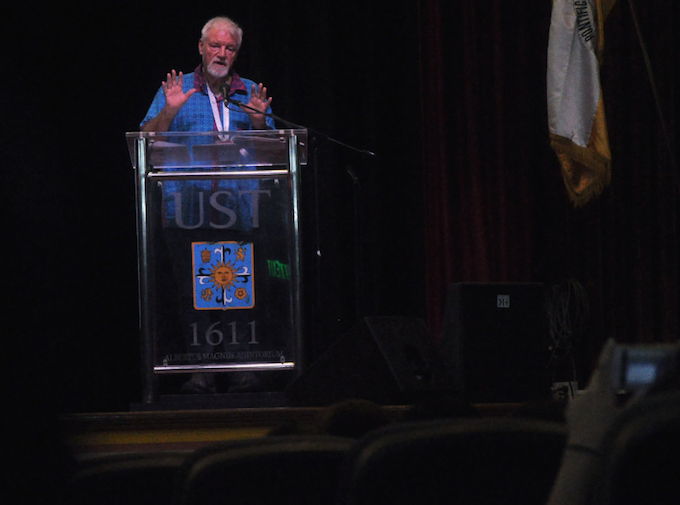 By Maria Eden T. Dino in Manila 

"Moving on without justice being served is not moving on—it's giving up."
This was the reminder of University of the Philippines professor and anti-Martial Law advocate Professor Crispin Maslog to University of Santo Tomas journalism students and faculty in a public forum held in Metro Manila at the weekend.
Dr Maslog, a former publisher of a weekly newspaper in Dumaguete that was closed down due to Martial Law between 1972 and 1981, urged millennials to open their eyes to the damages to the mass media the Marcos era had brought, even though they were not yet born at the time it happened.
"People without the knowledge of their past history, origin, and culture [are] like [trees] without roots," Dr Maslog said, quoting Jamaican political leader and journalist Marcus Garvey.
"The mass media became very critical and Marcos clamped down on the mass media with his military forces," he said.
"There were the years of protest, social unrest…The youth were taking to this stage to rally against corruption, that's an old issue."
Protesters and journalists were beaten and students were tortured, went missing, or found dead, Maslog added, citing Ricardo Manapat's book on Martial Law.
The chairman of the Manila-based Asian Media Information and Communication Center also slammed the government for its poor education system and the mass media for misleading stories about Martial Law that caused ignorance of the people on the issue.
"It is not the students' fault. It should be the government and the mass media that should be blamed for misleading information," Dr Maslog said.
Likewise, Pacific Media Center director Professor David Robie emphasized truth as the core of journalism.
"Journalism is really about truth, any experience of truth, and establishing that truth," Dr Robie said.
He was speaking about a digital strategy on human rights for journalists and cited the PMC's own Asia Pacific Report of successful examples of independent campus based media.
Dr Robie added that it was important for journalists to achieve independence in their job of disseminating stories, noting that fact verification through multiple crosschecking and research is a fundamental part of a journalist's job.
The forum titled Asia-Pacific Journalism for Filipinos Lessons by Seasoned Journalists and Journalism Educators was organised by the Faculty of Arts and Letters Department of Communication and Media Studies in partnership with the Journalism Graduate School, Research Center for Culture, Education and Social Issues-Research Interest Group on Communication.
Dr Robie also ran a workshop on Asia-Pacific reporting.
Maria Eden T. Dino reports for The Flame, official student publication of the University of Santo Tomas' Faculty of Arts and Letters Department of Communication and Media Studies.