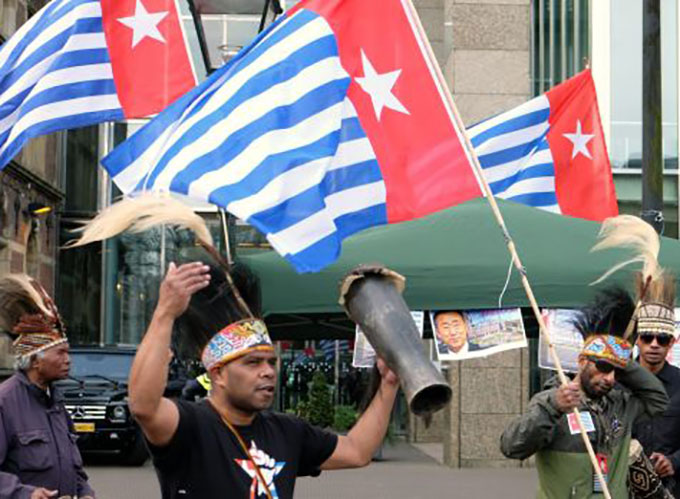 Australia must consider human rights, including the military crackdowns on the West Papuan provinces, when pursuing closer ties with Indonesia, says the Melbourne newspaper The Age in an editorial.
Condemning Attorney-General George Brandis for visiting Papua last week alongside "tour guide" former Indonesian general Wiranto, who was indicted by the United Nations for alleged crimes against humanity during Timor-Leste's bloody 1999 vote for independence, the newspaper said:
"Attorney-General George Brandis went to the Indonesian province of Papua last week, boasting his trip was a first by an Australian minister. He may have intended to signal Australia's willingness to help tackle what he called 'social and economic challenges' in the troubled province, but any symbolism intended was regrettably hijacked by his choice of travel companion.
"Senator Brandis was accompanied by Wiranto, the former Indonesian general indicted for alleged crimes against humanity committed during East Timor's bloody 1999 vote for independence. The former general was recently appointed chief security minister by Joko Widodo, in the latest in a series of disappointing decisions by the Indonesian President.
"Mr Wiranto was commander of the Indonesian Armed Forces at a time the United Nations estimated a military-sponsored rampage cost the lives of 1400 East Timorese, yet has never faced the charges.
"It may be a pragmatic need that guides Australia to engage with Mr Wiranto, given his new position. Australia and Indonesia must co-operate against common threats of Islamist extremism and broader regional problems.
"But it sends a callous message to allow a man such as Mr Wiranto to play tour guide in what has long been seen as Indonesia's restive frontier.
Flawed UN process
"The [two] provinces once known as West Papua have campaigned and fought for independence since a flawed UN process in the 1960s saw the territory incorporated into Indonesia. There have been military crackdowns and human rights abuses, and while some claims are difficult to verify, there is ample reason for concern.
"Australia has always insisted Indonesia has sovereignty over the territory, and Senator Brandis was at pains to emphasise this 'longstanding and bipartisan policy' during his trip. Despite such assurances, an almost paranoid suspicion has persisted among some circles in Jakarta's elite, perversely blaming Australia for East Timor's independence and believing Canberra wishes to see Papua go the same way.
"The government should not feel obliged to assuage Indonesia's unwarranted fears by sweeping aside human rights concerns in Papua. If Senator Brandis felt it was appropriate to see conditions in the province firsthand, so be it. But inadvertently or not, by choosing to accompany Mr Wiranto on the trip, he also signalled Australia was willing to forget past sins – and that was the wrong message.
"It was during the Howard years that Australia granted refugee status to 42 Papuans who fled the province. Unfortunately, Australia has since hopelessly compromised its moral standing on human rights questions with the wrong-headed insistence on offshore processing and the practice of turning back asylum seeker boats.
"Australia finds itself regularly at odds with Indonesia in large part due to proximity, shown by controversy over espionage, cruelty in the live cattle trade, and recent executions. It became a regular cocktail party joke during the presidency of Susilo Bambang Yudhoyono to observe that unlike ties with Australia, Indonesia and Iceland had a perfect relationship because the two countries are so far apart they have nothing in common and nothing to argue about.
"The difficulty between Indonesia and Australia was underlined this week in the results of an opinion poll by the Australia-Indonesia Centre, based at Monash University. It found almost half of Australians held an unfavourable view of Indonesia, compared with overwhelmingly positive views of Australia by Indonesians.
"Perhaps more than anything, such results reflect mutual ignorance. Leaders can talk about closeness, but true warmth will only be felt when neighbours speak frankly."
The Age editorial, 15 August 2016