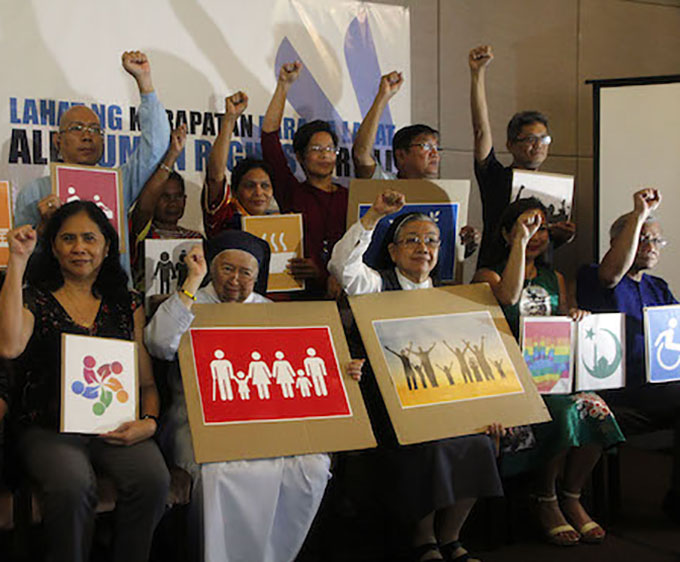 By Jimmy Domingo in Manila
Human rights activists in the Philippines have launched a movement to demand the immediate end of summary executions of suspected illegal drug users and peddlers in the country.
"We urge [President Rodrigo Duterte] to desist from inflammatory rhetoric that can only turn this country into one vast killing field," read a statement from the In Defence of Human Rights and Dignity Movement, or iDefend.
The group urged the president, who threatened to kill all illegal drug users and peddlers, not to make his war on drugs a "war on human rights".
"No matter who is killed or whose rights are violated, they are human beings with rights and dignity and that human rights are for all, especially for the poor, the marginalised and the vulnerable," said the group.
The group expressed alarm over the growing number of people killed in recent weeks as a result of the government's "all-out war" against illegal drugs.
Reports of the extrajudicial killings range cite 700 in three months. The Philippine Inquirer "Kill List" is regarded as the most accurate listing of the murders.
"It is high time that we speak, we raise our voices so we will live," said Franciscan Sister Crescencia Lucero of the Association of Major Religious Superiors of the Philippines.
'No dictatorship'
"We have to defend hard-earned democracy and not let our government become a dictatorship," the nun said.
iDefend convenor Rose Trajano of the Task Force Detainees of the Philippines said Duterte's call for the killing of illegal drug users "only creates a climate of fear, insecurity and helplessness".
"We can't allow the abnormal situation to become normal. We need to have unrelenting courage and determination to defend and to advance our human rights," said Trajano.
Pastor Ephraim Guerrero of the United Church of Christ in the Philippines also called on the government to "save its people from perils of disasters and anti-social activities".
Some 30 civil society groups and human rights organisations have already joined iDefend and vowed to monitor the government's human rights obligations.
"If the government is really sincere in curbing crime and drugs trade, it should do it by introducing policies that will alleviate poverty, stamp out corruption at all levels of government and reform the criminal justice system," the group said.
Jimmy Domingo is a contributor to UCANews.