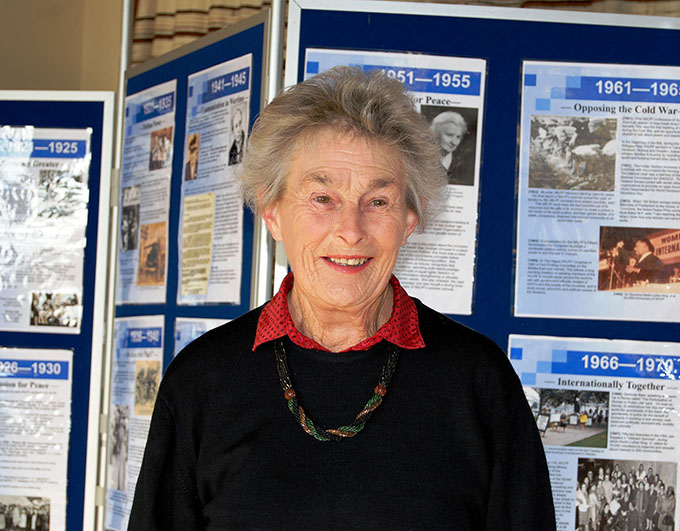 In memory of Joan Macdonald, 1932 – 2016
Joan Macdonald, nearly 84, a tireless and inspirational New Zealand campaigner for peace, human rights and social justice, died peacefully in Auckland on Friday, August 12.
This is a time of deep sadness for Peace Movement Aotearoa, Women's International League for Peace and Freedom Aotearoa (WILPF), Corso, the Treaty People network, Tamaki Treaty Workers, Asia-Pacific Human Rights Coalition and Auckland Human Rights Network, as well as the many other organisations and networks Joan was involved with over the years, and for everyone who knew her.
Joan Macdonald was a founding member and valued supporter of Peace Movement Aotearoa from the outset, actively involved in the Working Group at various times from the early 1980s, and most recently from 2002 to 2016.
Joan worked tirelessly for peace and justice in so many ways over so many years – promoting peaceful resolution of conflict, the Treaty and Treaty education, women's rights, social justice, demilitarisation, decolonisation and human rights both here in Aotearoa and throughout the Pacific, with a particular interest in Bougainville and West Papua; supporting alternatives to incarcerating women in prison; and opposing racism and violence in all its forms.
Energetic, thoughtful, and caring, with a great sense of humour and keen intellect, Joan was, and remains, an inspiration to everyone whose life she touched.
It was always a pleasure to have time with Joan, to enjoy her lively conversation on a wide range of topics, her wit and her ready smile, and to witness her kindness, generosity and willingness to help anyone who needed support.
She will be missed very much, and our thoughts are with her family and friends at this time.
Rest in peace Joan, well deserved after a life devoted to peace and justice, and caring for others. We will not forget you.
Tribute by Peace Movement Aotearoa.
Joan Macdonald talking about the launch of Asia-Pacific Human Rights Coalition in Auckland in 2013. Go to 9min 54sec. Video: A Pacific Media Centre clip by Daniel Drageset.