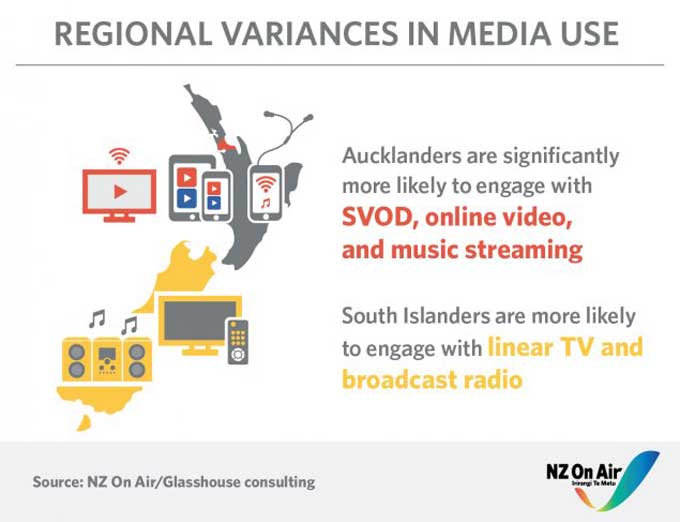 New research shows more 15 to 34-year-olds in New Zealand are streaming online video than watching traditional television. As a result, access to new media platforms have created an increasing generation gap in the way Kiwis are consuming television and music.
In April 2016, Glasshouse Consulting, commissioned by NZ On Air, carried out a phone and online survey of 1400 New Zealanders aged 15-years and older.
Some of the key findings stated that early adoption and increasing access to technology is enabling younger generations to consume more online media. While the majority of audiences 45-years and older rely more on traditional sources of media.
The survey asked respondents about what media they consumed "yesterday" and also if they had "ever used" particular media.
It is a follow-up to a survey first carried out in 2014, which provides the only independent, publicly available data across media types.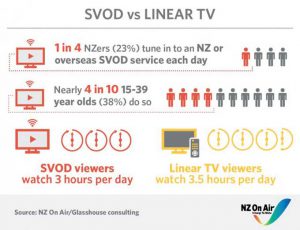 Other key findings are:
New Zealanders continue to tune in to traditional media in the largest numbers, more frequently and for longer periods of time than any other media. However this dominance is under real pressure with the growing use of online video sites like YouTube and Facebook, and online subscription video on demand (SVOD) services in New Zealand.
The biggest growth and driver of change since the 2014 survey has been the launch of SVOD services marketed directly to New Zealanders.
One in four participants tune in to a local or international SVOD service like Netflix or Lightbox daily.
But in SVOD homes, linear TV by a fine margin still attracts the biggest daily audience.

Image: NZ On Air

Thirty-three percent of New Zealanders consume music each day by streaming. But radio remains dominant as the place to hear about new music.
Read the full report by NZ On Air