By TJ Aumua
Pacific communities know how difficult it is to have our voices and regional human rights abuses heard on a world stage and to be represented in global media. Tonight veteran broadcaster and publisher Kalafi Moala expressed the region's concerns and uniqueness and finally gave Pasifika a presence and voice at the closing of the 4th World Journalism Education Congress (WJEC).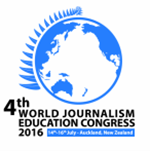 The publisher and chief executive of the Tongan newspaper group Taimi 'o Tonga, Kalafi Moala, told global journalists and media educators that they must begin to include Pacific people in their media and course curricula.
Moala said this during his plenary closing address at the 4th World Journalism Education Congress held at the Auckland University of Technology.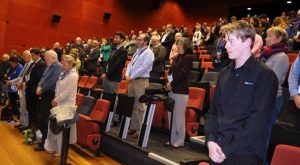 He emphasised the notion that the Pacific is often treated as a second-class citizen, and is not given a chance to voice its human rights abuses to the world.
"I wish to emphatically call on you journalism educators and journalists from the around the world," Moala began, "to please give us, your fellow journalists and journalism educators in our Pacific region, your kind attention.
"Let me point out how unique we are as a Pacific people. Despite the fact of our smallness in our population and in land size, we are not insignificant, you know why, because we live in the biggest continent on planet Earth…it's called the Pacific."
The profound editor's moving speech identified corruption cases and the neglected human rights abuses in the Pacific caused by super power countries.
"There are island nations in both Polynesia and Micronesia, that have been victimised by the nuclear testing of the French and the Americans in previous years.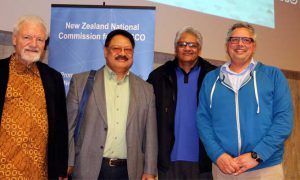 "We have fellow Islanders that are being oppressed as we talk and still under colonial rule by an Asian power, like in West Papua.
"There are island nations whose future, both economically and politically, will be determined by others and not by themselves.
"There is of course the ongoing recolonisation of all Pasifika by economically powerful nations, not only from the West but also from the East.
"A phenomena that has put back the peoples of Pasifika into the subservient role that was common in the golden era of colonisation."
The world needed to know the Pacific's diversity and understand its complexity, Moala said.
"We are people with many different cultures and we have many stories to tell."
"I call on you, our journalism educators, to please include Pasifika in your curricula and to assist us in our quest to deliver quality journalism to our people."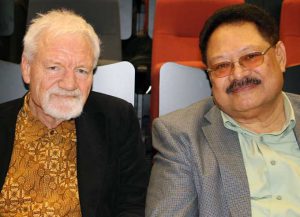 Listen to Kalafi Moala's full plenary speech at the WJEC, where he is introduced by the director of AUT's Pacific Media Centre, Professor David Robie. Kalafi Moala's speech on demand.