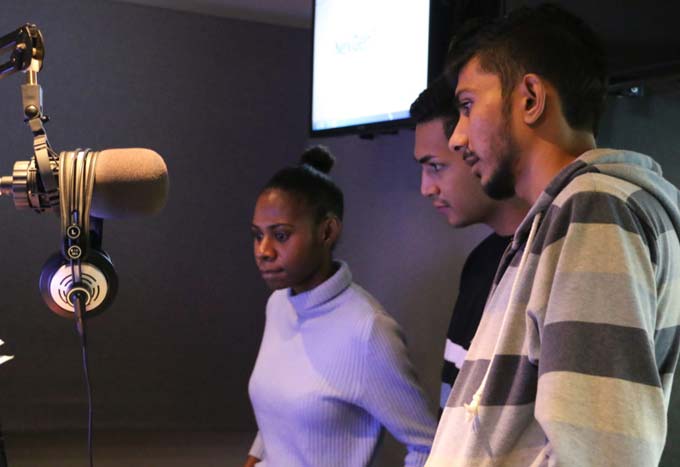 By Michelle Curran

After just one-week in New Zealand, three Pacific-based media and journalism students taking part in Pacific Cooperation Foundation's (PCF) Media Programme have been exposed to a new realm of ideas and opportunities.
The media programme, now in its second year, sees three Pacific-based journalism students visit New Zealand for a two-week internship at various media organisations in Auckland, while two NZ-based students travel to Fiji and Samoa to complete an internship at media organisations there.
This year's Pacific-based students include final year journalism students Nadia Marai, 22, from the University of Papua New Guinea (UPNG) and Sonal Singh, 21, from the University of the South Pacific in Fiji and a former editor of Wansolwara newspaper, along with Francis Vaigalepa, 20, who is in his first of two years studying journalism at the National University of Samoa.
Meanwhile, Julie Isles from Massey University and Anuja Nadkarni (AUT University) are in Samoa and Fiji respectively until July 11 when the Pacific and NZ-based students will gather in Auckland for a working breakfast to share their internship experiences before returning home.
One week into the internship, and the Pacific-based interns are experiencing the reality of work and what it takes to be a journalist in a New Zealand newsroom.
The interns have already visited Pacific Media Network, Māori Television, Pacific Media Centre and Tiki Lounge Productions where they have been exposed to many differences between media and journalism in New Zealand and in the students' home countries.
They have also gained new perspectives on the industry they want to work in.
Media differences
A major difference Marai and the other interns have noticed is the type of equipment used in New Zealand is more technical and advanced than what is used throughout the Pacific.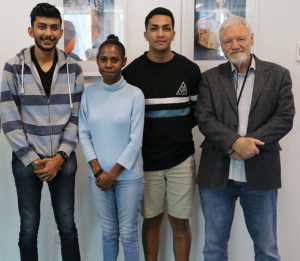 "Papua New Guinea is slowly making progress but we need more equipment for journalism newsrooms … If I happen to work in a newsroom later on, I will share ideas on what I've learnt about using technology and equipment to work more effectively," Marai says.
The idea of having programmes in the indigenous language of a country is novel, Marai adds.
"Māori Television try hard to keep the Māori culture alive with language programmes which is great … in PNG, we have over 800 different languages but all of our television programmes are in English."
Marai is particularly interested in environmental reporting when she returns to PNG, whose environment has been vastly affected from mining and climate change, she says.
For Singh, who has a passion for politics, his short time in New Zealand has shown him it is okay to ask questions, despite a media decree limiting media freedom as in his homeland.
"In Fiji, my fellow students and people are afraid to ask questions about politics but here everyone speaks about it freely," Singh says.
"I've learnt it is okay to ask questions, and if the person does not answer, at least you have tried your best to get one –- you don't know unless you try."
Singh adds he will encourage fellow students to ask more questions on his return to Fiji.
Absorbing information
Vaigalepa is keen to learn and absorb as much as information as possible about new technology and media practices in New Zealand to take back to Samoa, where he wants to focus on pressing Pacific issues.
Pacific nations face the same challenges, and by standing together, they can learn about how best to face them from each other, he says.
The director of Pacific Media Centre at AUT University, Professor David Robie, says he considers PMC's collaboration with PCF's media programme vitally important.
"We see these interns as brothers and sisters of journalism in the region," Dr Robie says.
AUT has been working with USP for a number of years, and also with UPNG.
It also has links with NUS, so this programme assists with developing a Pacific-wide network, he adds.
"There are many challenges in the region that we all face and need to know more about.
Marginalised in NZ
"Through collaboration we can tackle some of these issues – important for the region but often marginalised in countries such as New Zealand and Australia.
"Part of our work at PMC is to help make these issues centre stage."
As student contributions are encouraged at PMC for its news and current affairs website Asia Pacific Report, launched in January by PCF's chief executive Laulu Mac Leauanae, Dr Robie has invited the interns to contribute work about issues in their homelands.
In week two of the internships, the trio will visit Tiki Productions again, along with Television New Zealand, The New Zealand Herald and SunPix, producers of Tagata Pasifika.
Michelle Curran is a Pacific Cooperation Foundation journalist.