Report and video story by TJ Aumua for Asia Pacific Report
Name: Jale Samuwai Curuki

Age: 30

Occupation: PhD candidate, University of the South Pacific

Passion: Accounting, climate financing

Country: Fiji
Climate change activist, Jale Samuwai Curuki, sends a powerful message from Fiji to the sceptics of climate change.
"I come from the second largest island in Fiji, Vanua Levu," says the 30-year-old.
"There's a village there called Vunidogoloa and [this is] the first village in the world to be relocated due to climate change.
"I've been to Vunidogoloa and seen the consequences. The entire village is gone and it's not habitable anymore, they have had to shift so that in itself is a testament that climate change is real."

"We're not making this up," he says. "If you are still a climate denier, I feel sorry for you."
Currently completing his PhD in climate financing at the University of the South Pacific in Suva, Curuki can often be found clicking away at the keyboard, getting stuck into his thesis.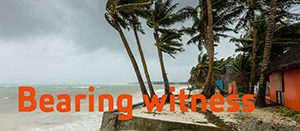 Climate financing is one of the issues that affect small island countries in their effort to combat climate change, Curuki explains.
Climate financing
"The issue of climate financing is new. No matter how you spin it, no matter how many fancy words you apply to it, all comes down to money."
Curuki followed the climate finance track at the 2015 COP21 conference in Paris, which he attended as apart of a selected delegation for Fiji.
"To actually live and experience how agreements and how treaties are made on the highest level is something else, it's totally mind-blowing," he says.
He recalls busily running from meetings to negotiations that would sometimes finish in the early hours of the morning.
"We can really appreciate the effort all these diplomats and negotiators do on our behalf," he says.
Curuki encourages all Pacific communities especially those in New Zealand and Australia to mobilise and take action against climate change.
He makes it clear that if you're still not convinced, the Pacific isn't far away for people to come and see the effects for themselves.
"[We are all linked and] for now we might be crying, tomorrow it might be you."