The NGO Coalition on Human Rights has declared its disappointment over the recent "unjust" incident resulting in the suspension of Opposition Member Roko Tupou Draunidalo for the remaining term of the current Fiji Parliament.
The suspension was recommended by the Privileges Committee, which reported contravention of Standing Order 62 (4) (a) and (d) and the coalition has called for a review.
"The coalition considers the lengthy suspension to be a direct injustice to the 2966 voters who cast their vote for Ms Draunidalo in the 2014 elections, as well as further worsening the gender balance in Parliament," said the chair of NGOCHR, Tara Chetty.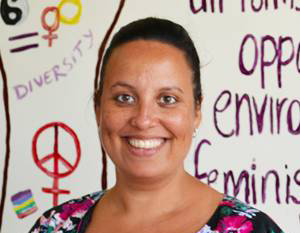 With Roko Tupou's suspension, there are now just 7 women in Fiji's 50-member Parliament – a ratio of only 14 percent women to 86 percent men, she said.
"We call on the Privileges Committee and government Members to reconsider this decision, which we feel is disproportionate and unnecessarily deprives voters of an engaged and active representative."
It is the coalition's understanding that the incident could more appropriately have been raised as a Point of Order during the debate on 2 June 2016, allowing the Speaker to immediately rule on the issue as outlined in the Standing Orders, Chetty said.
Instead, the matter was raised much later on the basis of an audio clip that was then referred to the Privileges Committee.
Democracy is about debate
"Removing a Member of Parliament in this way is likely to dissuade other Parliamentarians from thoroughly debating national issues.  Yet democracy is all about debate, a diversity of views, and vigorous but productive disagreement," Chetty said.
"This incident is significant because it undermines the perception of Fiji's democracy and our Parliamentary process.  It is not just about those who voted for Ms Draunidalo, but for all voters – will our issues be debated robustly in Parliament or is it going to become an increasingly hollow process?"
The NGO Coalition on Human Rights is a non-partisan group of civil society organisations that promote the recognition and realisation of human rights in Fiji.  The member organisations represent and work with diverse networks and communities from around the country.