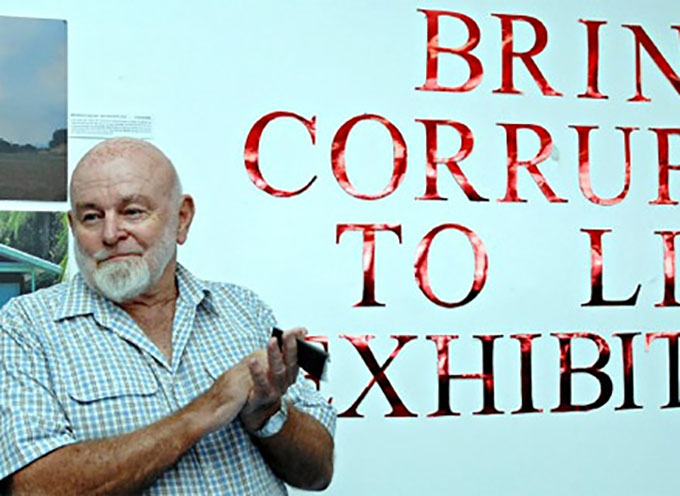 Jemima Garrett reporting for Pacific Beat

Journalists, lawyers and corruption-fighters are sounding the alarm as one of the Pacific's most comprehensive online databases faces an uncertain funding future.
Paclii, based at the University of the South Pacific, gives anyone with an internet connection access to a treasure trove of Pacific Island legal documents and court decisions.
LISTEN TO THE RADIO AUSTRALIA PODCAST
GARRETT: Paclii gives free online access to the constitutions and laws of every Pacific country as well as to court decisions, leadership commission rulings and other documents.
It is an essential resource for Pacific governments, international organisations, businesses, NGOs and citizens.
Lawrence Stephens is chairperson of the PNG chapter of Transparency International.
STEPHENS: Paclii has been a great gift to people of the Pacific and it really is important that more people have access to the laws of their country so more people can understand what their rights are.
GARRETT: Before Paclii existed people seeking information on the laws of their country had to travel to a major city to visit a library.
Now corruption-fighters like Lawrence Stephens can get access to court decisions and documents from any Pacific nation.
STEPHENS: We are interested to see what happens in [the] Solomon [Islands] and it is an opportunity provided to us to be able to check their laws. Another particularly interesting one was when Vanuatu placed so many members of parliament in the prison and the way in which that happened and so that became of particular interest to people in other countries and it is good to be able to check the laws and to understand exactly how things are handled.
GARRETT: Timely information is vital, especially for journalists who have to explain complex court decisions to their audiences.
Professor David Robie Director of the Pacific Media Centre at the Auckland University of Technology says Paclii is a Pacific success story.
After more big cuts to aid in the Australian budget earlier this month, Pacific lawyers and human rights advocates became concerned that Australian-funding for Paclii might be axed as soon as the end of June.
David Robie says if Paclii is cut there are stories Pacific audiences might not hear.
ROBIE: All the stories at the moment running in Papua New Guinea; the legal subterfuge which is going on with the political upheavals at the moment, all these sorts of stories need the legal documentation and backgrounding that journalists have to rely on something like Paclii to provide those sorts of basic information
GARRETT: Australia's Foreign Minister Julie Bishop has issued a statement saying Paclii's funding has NOT been cut.
The University of the South Pacific's Acting Deputy Vice Chancellor Professor Derrick Armstrong says Paclii is crucially important to the region.
ARMSTRONG: The simple situation is that the University of the South Pacific is going to continue to support Paclii. It is very crucially important to the region and we have always been a keen supporter of it so we want to seek ways of ensuring that it continues to thrive and provide the services that it does.
GARRETT: Julie Bishop says the funding has NOT been cut but perhaps ominously, when dfat is the main funder, added that 'no decision has been made'. What do you take from that?
ARMSTRONG: Well, the funding hasn't been cut. The funding has come to its natural end. It is a project funded by Dfat and it has come to an end, or will do later this year, and that is the course of all projects funded by development agencies.
GARRETT: Pacilii's project funding runs to the 31st of December.
Australia could renew its funding.
If not, USP will seek donations from users to keep the service operating and pay its 12 members of staff.
David Robie thinks a donation model of funding is unlikely to allow Paclii to maintain its quality.
ROBIE: I think that would be extremely, extremely. difficult. It has set such a high benchmark now and it has been improving every year to match that. I think it would be a rather uncertain future. It would be a pity for such a valuable resource for the region to be given an uncertain future.
Jemima Garrett is a Radio Australia journalist specialising in Pacific Island affairs. This report is republished with permission.