As candidates concede to presidential frontrunner Rodrigo Duterte, the International Coalition for Human Rights in the Philippines has joined the Filipino people in calling on the next chief executive to end rights violations and give justice to victims.
Duterte captured the support of the Filipino electorate clamouring for change – a clear repudiation of the Aquino government's failure to bring about real development for the impoverished people.
"We have seen this overwhelming support take shape in the lively campaigns organised by different migrant groups in our respective countries, in spite of the criticisms against him for his alleged responsibility for the Davao 'death squads' and summary executions of alleged criminals," said Reverend Canon Barry Naylor, chairperson of the global council of the coalition ICHRP.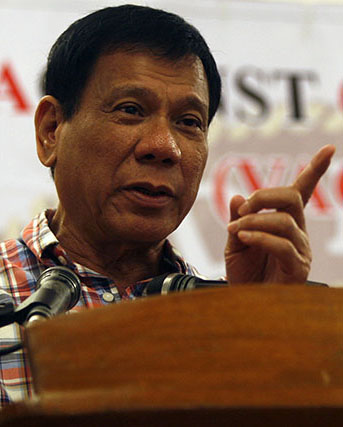 With this, the ICHRP hopes Rodrigo Duterte will prove himself worthy of the votes he has garnered, as it joins the Filipino people in immediately calling to:
Stop all extrajudicial killings (EJKs), including the killing of Lumad people [in Duterte's home island of Mindanao], attacks on communities and indigenous schools, among other human rights violations;
Stop vilification and harassment of human rights defenders;
Release all political prisoners; and
Resume formal peace negotiations with the National Democratic Front of the Philippines
"The first 100 days of the incoming president is enough time to give him fair warning on rights violations and for him to ensure justice to those victims of violations committed by the outgoing Aquino administration (as well as previous administrations)," Naylor said.
"He should sincerely address the roots of the armed conflict and disallow another National Internal Security Plan, such as the failed Oplan Bayanihan, in bringing about genuine change in the land," Canon Naylor said in response to Duterte's call for national reconciliation and healing.
"Without justice there can be no peace."
The ICHRP will be co-convening an international human rights conference on July 23-24 in Davao City, Duterte's political stronghold.
The conference will commemorate 40 years of the Algiers Declaration of 1976, the Universal Declaration of the Rights of Peoples.
International solidarity missions will visit several areas in the Philippines from July 16 to 20 before the conference, and follow up on the findings of the 2015 International People's Tribunal held in Washington, DC.