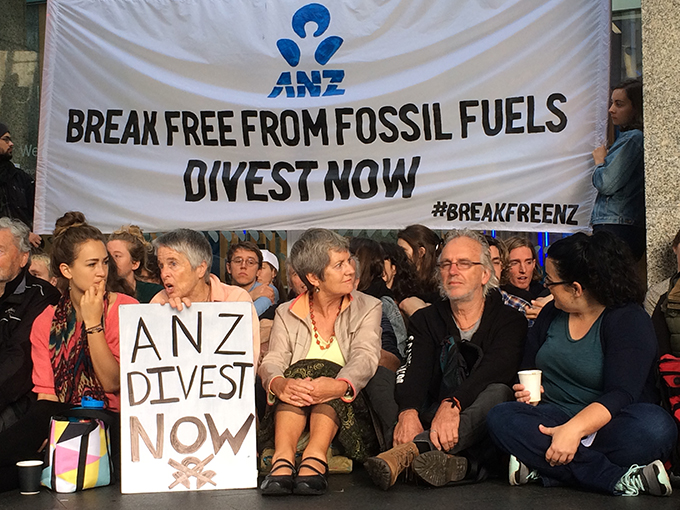 Banking group ANZ is one of the biggest investors in fossil fuel industries. Failing to get much response from management with letters, activists 350 Aotearoa launched the "Break free" movement in New Zealand with a divestment message. Ami Dhabuwala profiles the protesters for Asia Pacific Report.
The global offshoot of the climate change movement 350.org, called Break Free, has been waging a campaign against the fossil industry for the past two weeks climaxing this weekend.
As part of the campaign, Break Free successfully blockaded ANZ's flagship branch in central Auckland today, forcing it to close down for the day.

From May 4 to May 15 – on Sunday, activists from all over the world have protested against fossil fuel industries and other corporates and organisations supporting them.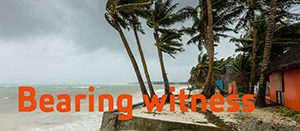 Protesters in Australia, Brazil, Canada, Germany, Indonesia, Nigeria, Philippines, South Africa, United Kingdom and United States as well as in New Zealand have staged "civil disobedience" demonstrations to spread their ideas behind "breaking free" from the fossil fuel industries.
As a part of this movement, 350 Aotearoa has demonstrated in Christchurch, Wellington, Hamilton and Dunedin as well as Auckland in New Zealand.
The climate change activists in Auckland successfully closed down the ANZ Queen St branch today by blockading both entrances in Queen and Wellesley Sts.
The activists launched the "Beach Party" campaign by dancing in Auckland's ANZ bank in Queen St on May 4.
Wave of direct action
"This can be a launch pad for a wave of direct action to keep the major fossil fuels under the ground," said spokesperson Alex Johnston at the time.
A group of 15-20 people entered the bank branch dancing with music playing in the background.
Activists in swim suits and scuba diving outfits danced and played with a beach ball in this unique protest. They handed out flyers, saying: "Business as usual cannot continue."
"Break free is a global wave of action and it is helping to bring a whole movement of people into taking direct action for climate change. This protest is to show the banks that you can't keep operating like this," Johnston said.
The demonstration lasted for only a couple of minutes and then the activists left the ANZ bank shouting: "Party is over, Divest now."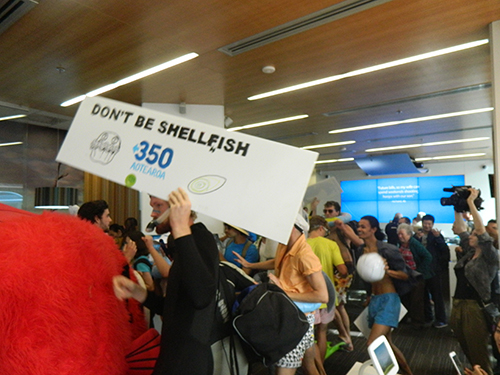 Niamh O'Flynn is the executive director for 350 Aotearoa.
"ANZ have invested $13.5 billion [since 2008] in the fossil fuel industry and there is no legitimacy in that anymore," says Niamh O'Flynn, executive director of 350 Aotearoa.
'ANZ has responsibility'
"As the largest bank in the Pacific Islands, ANZ has a responsibility to do its part to prevent further damage to the climate."
According to the activists, they would not accept corporations profiting from industries which are contributing to climate change.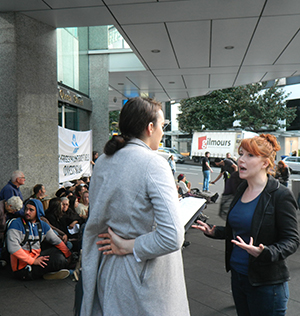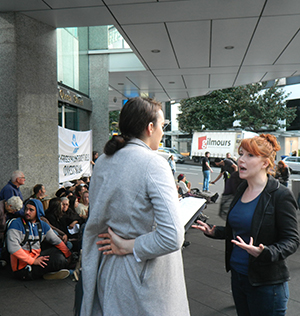 "The time for change is now and people are getting ready to take serious action," O'Flynn says.
Apart from ANZ, the Commonwealth Bank of Australia (parent company of ASB), National Australia Bank (Parent Company of BNZ) and Westpac have also invested $10.6 billion, $8.86 billion and $6.33 billion respectively since 2008.
The aim of the "Break Free" movement in New Zealand is to persuade ANZ to divest from fossil fuels.
The activists have demanded that the bank should immediately stop all loans to new coal, oil and gas projects. In addition, they should withdraw all investment in fossil fuel extraction companies within the next 3 years and they should commit to no future investment in fossil fuels.

Alex Johnston says it is the citizens' collective duty to take action. A proper action plan is needed.
Empowering for action
"It is not just our future; it is also about our future generation. It is empowering that we are taking action. We are pushing for a healthy and sustainable future."
The young activists said they were contributing to the better future.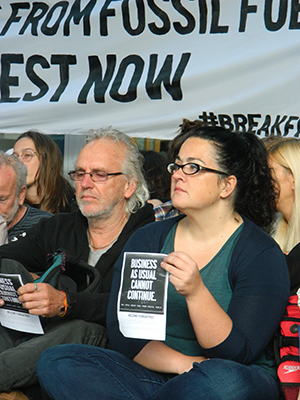 Sandy Hildebrandt is a campaigns assistant for 350 Aotearoa.
"We are not asking customers to switch banks yet, as there are no divested banks in New Zealand," she says.
"While customers are not our targets, we are certainly working every angle to put pressure on banks to divest."
Almost 100 of people came together today to protest against one of the biggest investors for fossil fuel.
"We can't see the change in the climate now. The winter has already started but we still feel warmth in the environment," said a young activist.
Singing and dancing
People were singing and dancing during the protest. Many old-age people also participated in the protest with a great enthusiasm.
Hana and Mathew Blackmore are one older couple taking part. When younger, they participated in the protest against the nuclear weapons and power.
"Our youth have to come forward and fight for it. We are doing this for our children and grandchildren," the couple said.
The activists sat on the main entrance for more than five hours and managed to block it.
At last, the employees at the ANZ Queen St branch were asked to leave the bank which gave a huge success to the 350 Aotearoa and the protesters.
A media spokesperson for ANZ, Peter Barnao, said the bank respected the activists' right to freedom of speech and their rights to protest.
Green technology
"ANZ is already expanding into renewable energy. We have also invested in green technology and renewable resources. So the trend is happening."
O'Flynn said the activists were on the right side of history.
"I think being peaceful and welcoming is the way to involve more people in this moment. Sometimes it is hard and sometimes people don't always agree with us but I think the future generation will look back and see these people sitting outside of this bank as climate heroes."
Ami Dhabuwala is an international student journalist from India on the Postgraduate Diploma in Communication Studies and on the Asia Pacific Journalism Studies course at AUT University, New Zealand.