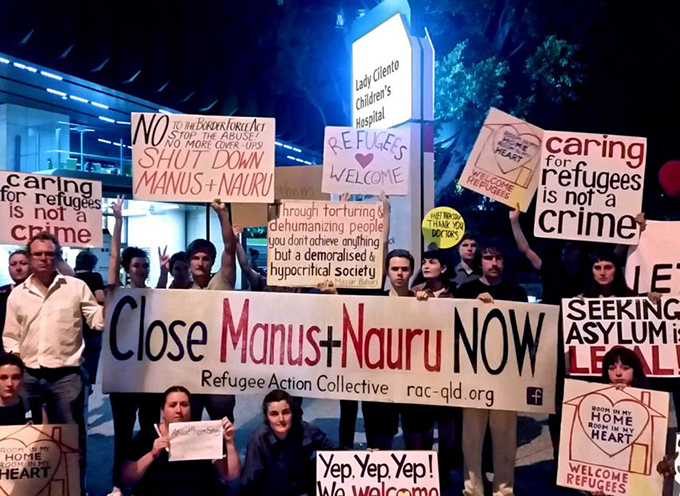 Global press freedom has declined to its lowest point in 12 years in 2015, reports the global media watchdog Freedom House in its latest annual report.
Political, criminal, and terrorist forces have sought to co-opt or silence the media in their broader struggle for power.
And the country with the biggest decline in the past year is the small Pacific state of Nauru due to controversial secrecy over the Australian asylum seeker detention centre hosted there.
Jennifer Dunham of Freedom House writes:
The share of the world's population that enjoys a free press stood at just 13 percent, meaning fewer than one in seven people live in countries where coverage of political news is robust, the safety of journalists is guaranteed, state intrusion in media affairs is minimal, and the press is not subject to onerous legal or economic pressures.
Even in the much more open media environments of Europe, journalists faced unusual levels of pressure from terrorists and, to an extent, their own governments.
In a year that began with the shocking murder of eight cartoonists and editors at the Paris offices of the satirical magazine Charlie Hebdo, media freedom in the region was threatened by violence, new surveillance and antiterrorism laws, and verbal attacks or interference from politicians and government officials.
Varied threats
The varied threats to press freedom around the world are making it harder for media workers to do their jobs, and the public is increasingly deprived of unbiased information and in-depth reporting.
However, journalists and bloggers have shown resilience. Often at great risk to their lives, they strive to transmit information to their communities and the outside world, and circulate views that contradict those promoted by governments or extremist groups.
Pressure on journalists to display political loyalty was especially intense in Egypt, where the state-owned outlets and nearly all private media embraced a progovernment narrative, and few dared to cross redlines on stories related to the military, security, and the outlawed Muslim Brotherhood.
President Abdel Fattah al-Sisi himself frequently convened private meetings with prominent newspaper editors and television presenters to discuss the government's wishes.
The Libyan media, which experienced a dramatic opening after the fall of Mu'ammar al-Qadhafi, were caught between rival governments in Tripoli and Tobruk in 2015, in many cases becoming little more than mouthpieces for whichever government or affiliated militia controlled their region.
Civil conflict similarly increased media polarization in Yemen, as outlets fell into line with either the exiled government or the Houthi rebels, and independent writers and journalists were marginalised or persecuted. Extremist groups opposed to both sides also took their toll.
Syria remained by far the deadliest place in the world for journalists in 2015, according to the Committee to Protect Journalists (CPJ). At least 14 were killed in the country, and three Syrian journalists who had sought safety abroad were assassinated in Turkey, apparently by IS. In addition to terrorising journalists, IS has proven adept at bypassing formal news outlets and using social media to spread its propaganda around the world.
Media dominance
Struggles for media dominance played out in a number of other countries as well.
In Turkey, authorities loyal to President Recep Tayyip Erdoğan seized critical private media groups and turned them over to politically friendly trustees—a new tactic in the government's ongoing assault on press freedom.
In October 2015, state officials took over Koza İpek Holding, the owner of critical outlets including the television channels Kanaltürk and Bugün and the newspapers Bugün and Millet.
In March 2016, the private media group Feza Journalism, owner of Zaman, Turkey's largest newspaper, was also seized. Both actions were based on the companies' association with exiled cleric Fethullah Gülen, a former Erdoğan ally who has been branded a terrorist.
The already limited space for investigative journalism and online commentary in China shrank further during 2015, continuing a trend of ideological tightening under President Xi Jinping. Professional journalists from established news outlets were detained, imprisoned, and forced to air televised confessions—including Wang Xiaolu of the prominent financial magazine Caijing, who was arrested for his coverage of the falling stock market.
Censorship of news and internet content related to the financial system and environmental pollution increased as the economy slowed and smog thickened. Xi reinforced his vision of complete loyalty in early 2016, declaring in a high-profile speech that all forms of media should fully identify with the ruling Communist Party's agenda, even in the realms of entertainment and advertising.
Nauru worst
Pacific Media Watch reports: Nauru fared the worst in the Asia-Pacific region in the Freedom House report. The report said the worst decline in press freedom last year occurred in the tiny Pacific island nation of Nauru, because it started assessing thousands of dollars in fees against journalists wanting to enter the country or blocking their entry altogether, in an effort to keep them from writing about migrants being held there who are seeking asylum in Australia.
It deteriorated by a massive 9 points, taking its negative tally to 13 points in the past four years, in contrast, Fiji has improved by 10 points in the past five years, mainly due to a freeing up of the media climate with the elections in September 2014 and over the past year.
Palau ranked highest in the Asia-Pacific region, followed by the Marshall Islands with New Zealand in third place. Federated States of Micronesia ranked fourth followed by Australia and Vanuatu.