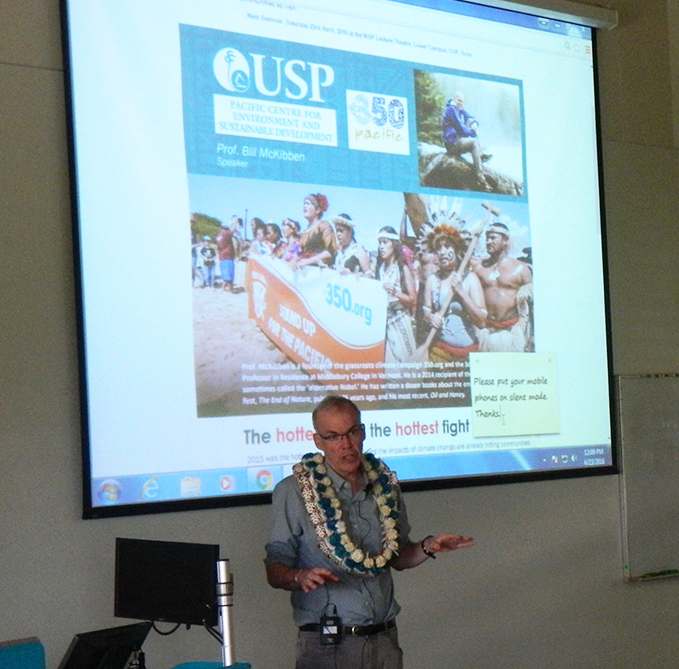 By Ami Dhabuwala in Suva
The people of the Pacific have been handed a big challenge over the weekend – mobilise for urgent climate change action and "save the world" through their example.
Bill McKibben, founder of the global grassroots climate campaign 350.org, challenged Pacific islanders to fight for the climate change movement at a conference at the University of the South Pacific.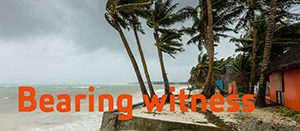 It is ideal for Pacific people to use solar power, fuel efficient cars, ride bicycles, he argues.
But in the end it would not make any difference to the final outcome for the fight for climate change as there are small populations in the Pacific.
"The Pacific is probably going to play a crucial role in helping to build the movement that changes the politics around climate change," he said.
"You can make big countries like China, United States and Australia to act fast on it. You have a particular job to build this movement."
The seminar, organised by USP's environmental studies programme PACE-SD, focused on climate change action.
"We started the 350.org operation almost 8 years ago to build the movement for climate change around the world," said McKibben.
'We need a fight'
McKibben has written several books on the environment, including The End of Nature; The Age of Missing Information; Hope, Human and Wild, Oil and Honey.
"I thought long ago that writing books, discussions, and talks could solve this issue, but I was wrong at that time. We need a fight. We have to fight against the fossil fuel industries and against their money and power."
To fight against the power of these industries, he explained the necessity of a movement.
"It is a systemic structural problem and we have only a few years to solve it. We require a huge political change. We need to find some source of power other than money to fight against [the fossil fuel industry] and the only other source is to build the movement."
McKibben said this could be an opportunity for the Pacific people to save the world.
"It is a great burden to be in the Pacific right now. You didn't ask for climate change and you didn't cause it – yet it's happening to you.
"But you can turn this burden into a privilege. You can fight together to save the world from this crisis."
'Deep emergency'
He talked about how it was known 25 years ago that the world would face the effects of climate change because of the fossil fuel and other industries, but "we didn't know how fast it would be".
"We are in the deep climate change emergency. It is much deeper than we thought," he said.
McKibben believes that it is not a matter of decades – it is only a matter of years now. The world needs to act fast with the fight over climate change.
"Since the Pacific faces the quickest danger than any part of the world, you have more right, more credibility to stand up and push this movement on the fast track.
"We have to make the world understand about the crisis, which is the most difficult job. We have got to figure out the way to make them understand."
Professor McKibben has already covered many countries, including Afghanistan, Australia, Bangladesh, China, Ethiopia, India, Pakistan, Russia, United Arab Emirates (UAR) and the US, with the 350.org campaign.
New Zealand approach
This campaign comes up with creative ideas in different countries.
For New Zealand, they took help from the bike mechanics. They went to the people's garages and helped them to repair their bikes – so they could not find an excuse not to ride their bicycles.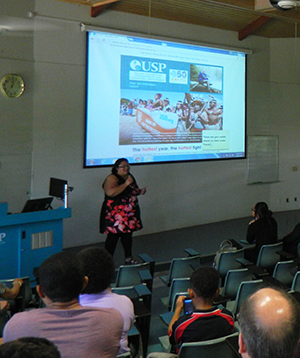 Koreti Tiumalu has worked for the New Zealand government for 10 years. But 4 years ago she quit her job and now is now working with 350.org as the Pacific region coordinator.
"I have heard stories that sometimes I wish I wouldn't have. It's not an easy fight. But I can't just sit there and do nothing."
Tiumalu believes that young people love their culture and with the help of concerts, music and smart phones, they can become a huge part of this movement.
"We need to get into their music, their sports."
350.org plans to launch a "Break Free" campaign to target the world's dangerous fossil fuel projects during May 4-15.
Ami Dhabuwala and Pacific Media Watch contributing editor TJ Aumua are in Fiji on a two-week "Bearing Witness" climate change journalism project with the University of the South Pacific.