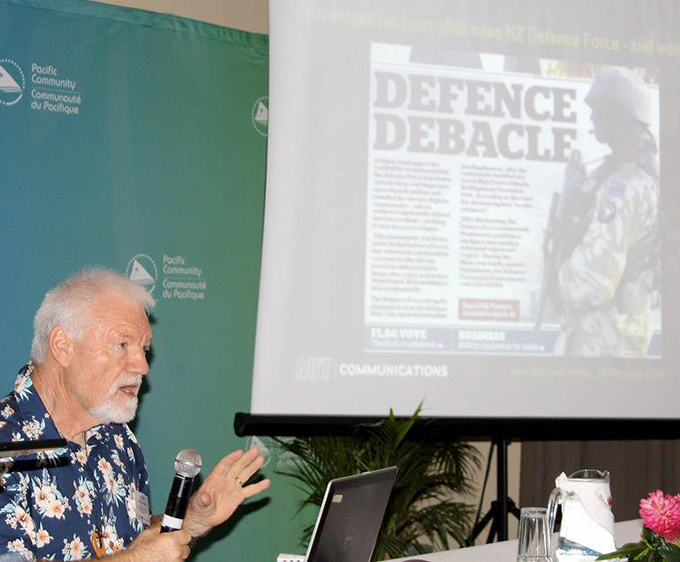 A regional media forum in Fiji has heard the fear of retribution is a barrier to reporting human rights stories in the Pacific, Radio NZ International reports.
Thirty people from 13 Pacific nations attended the Nadi conference organised by the Pacific Community.
Ben Robinson reports – listen to Radio NZ International:
Declaration of Human Rights-based Approach to Journalism in the Pacific, Nadi, Fiji, 15 April 2016
The Pacific Community's Suva-based team leader for human rights training, Nicol Cave, says the forum gave journalists a framework for writing human rights stories in the Pacific, a region with varying degrees of media freedom.
NICOL CAVE: "And also during the forum some journalists raised the risks. If you get on the wrong side if you report the wrong story there maybe risks and consequences for the media house or for the journalist. But I think there has been an increase in reporting around issues of corruption and reporting the gravest human rights violation in the Pacific [which] is very high levels of violence against women."
The executive director of the Fiji Women's Rights Movement, Tara Chetty, told the forum that women need greater representation in the media beyond the reporting of gender-based violence.
TARA CHETTY: "It's great that it is getting good strong coverage, however, what we're seeing is women are most often presented as victims of violence and there's very little opportunity for them to be portrayed in any other way. So we ended the session with some very practical tips about having a more gender aware approach to your journalism. Things like developing a list of experts in various fields who are also women."
The forum's keynote speaker was the director of the Pacific Media Centre at the Auckland University of Technology, Professor David Robie. He says social media has an important role to play in exposing human rights abuses as it has done in West Papua.
DAVID ROBIE: "Social media has really just about brought a revolution in terms of world exposure by journalists, by activists in West Papua, able to get good video footage out, for example, showing what has really been happening. It's forced the Indonesian government to actually be a little bit more proactive and they brought in this policy last year enabling journalists to go to West Papua on a more official basis rather than undercover as they've tended to in the past."
The forum also brought together journalists and government communications officials which Nicol Cave says helped them work through the frustrations they cause each other.
NICOL CAVE: "So governments' sense of, you only right negative stories, and journalists' sense of, we're unable to reach you, we're unable to right the good stories. So each of the regions, Polynesia, Melanesia, came up with a plan of how they would link and work better. Because the media also needs to be telling the good news stories because progress is being made and the media needs to reflect that."
But a Fiji political commentator, Professor Wadan Narsey, says he doubts Fiji's journalists at the forum aired their dissatisfaction with state communicators. He says the media in Fiji self-censor criticism of the government.
WADAN NARSEY: "We don't know what was really discussed over there, however, the chances are that there wouldn't have been very many critical issues discussed, simply because people are afraid of talking. So there's a silent censorship taking place right throughout the Fiji media that is not visible because there are no censors in the newsrooms, there's nobody physically telling them don't do it, but everybody there they are all self-censoring."
Wadan Narsey says the Fiji media won't expose human rights abuses by the government for fear of reprisal.
HUMAN RIGHTS AND MEDIA FORUM
Human rights violations blamed on silence and 'looking the other way'
Pacific journalists make human rights for the 'voiceless'
Regional Rights Resource Team (RRRT)
Reporters urged to be gender sensitive