Ura Tabu dancers perform the Calypso medley song "Yellow Bird" at the launch of the New Zealand Institute of Pacific Research last night. Video clip: Del Abcede/PMC
Foreign Minister Murray McCully has welcomed the launch of a New Zealand-based Pacific think-tank aimed at supporting sustainable development in the region.
"We have identified the need for more targeted research on the Pacific, to underpin development initiatives and support Pacific decision makers," said McCully, who launched the new institute at Auckland University's Fale Pasifika last night.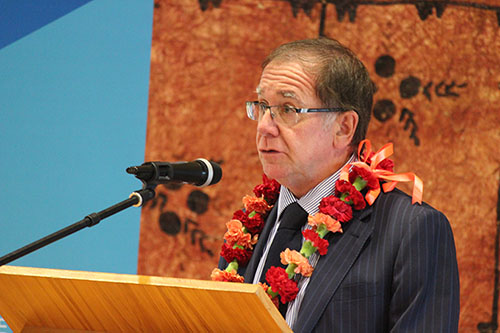 "The New Zealand Institute for Pacific Research will work in support of Pacific governments and regional agencies, and will focus on producing the kind of hard-headed analysis that can support sustainable economic development.
"Our aim is for the NZPIR to become a centre of excellence for research on Pacific development, governance, public policy, and security issues.
"The government has provided a cornerstone investment of $7.5 million over five years to establish the Institute and develop an initial programme of research," McCully said.
The NZPIR will be based at the University of Auckland.
The research programme will be delivered by a consortium led by the University of Auckland, and including Auckland University of Technology and Otago University.