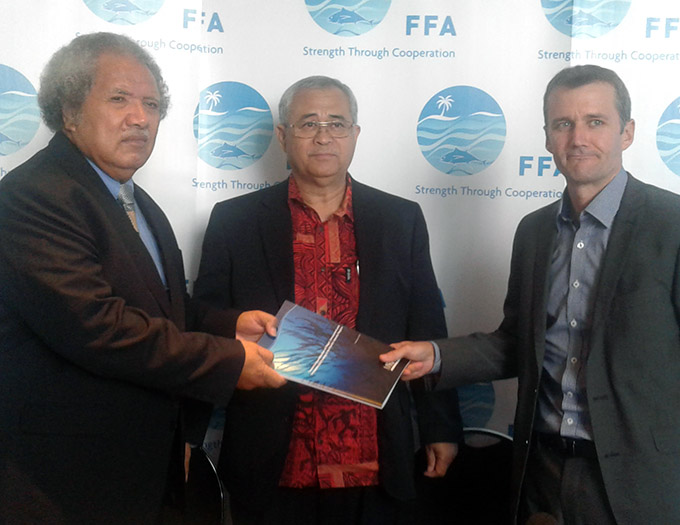 A report into illegal fishing is set to make waves across the Pacific. Kendall Hutt of Asia-Pacific Journalism reports.
Officials from 17 nations across the Pacific are welcoming the findings of a landmark report into illegal, unreported and unregulated fishing.
With the largest tuna fishery on the planet, the report, Towards the Quantification of Illegal, Unreported and Unregulated Fishing (IUU) in the Pacific Islands Region, will allow officials to bolster their monitoring, control and surveillance efforts across the breadth of the Pacific Ocean.
Forum Fisheries Agency director-general James Movick says the report's findings enable them to identify where key illegal fishing risks are, and in turn, enable them to strengthen their monitoring (MCS) framework.
"It will help us to target our MCS activities in the future much more appropriately."
Duncan Souter, chief executive of M-RAG Asia Pacific, an independent fisheries and aquatic resource consulting company, which authored the report, says it enables effective tracking of investment.
"What it [the report] does allow for Pacific Island countries is that it allows them to prioritise where they should be putting their MCS resources and it allows us to track the effectiveness of those investments over time."
However, this does not mean that MCS efforts in the past have been unsuccessful, officials warned.
Technology key
Pita Elisala, chairman of the Forum Fisheries Committee, addressing media at a press conference last week acknowledged the "astonishing" achievements in MCS to date, such as the addition of the first centralised regional satellite-based vessel monitoring system (VMS).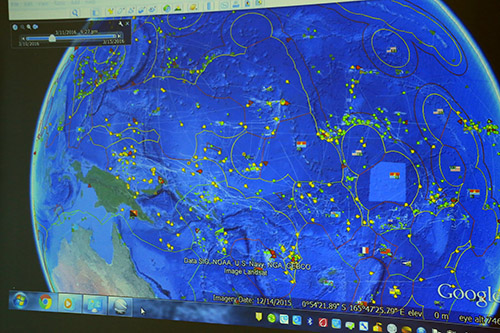 "There should be no doubt in anyone's mind that without that historical and ongoing effort, we would be looking at a much different report today."
Officials point out that such "astonishing" achievements could not have been made without the high presence of technology.
Hugh Walton, former team leader and policy specialist for the EU-funded DevFish II project, says technology is increasingly important, particularly for MCS efforts.
"The collective of technology for real time reporting and data entry at source means MCS administrations can focus more directly on analysis and follow up on anomalies."
Delivering a presentation at the 19th Monitoring, Control and Surveillance Meeting in Auckland last week on electronic reporting and electronic monitoring, Walton noted that these technologies play an "evolving role" in MCS.
Potential benefits of adopting both systems in the purse seine and longline fisheries include, among others, enhancing coverage in existing human observer programs, along with eliminating costly, time-consuming shore-based data entry.
Ensuring the future
Movick has also acknowledged the big role technology plays in managing the region's fisheries and says it is something FFA member countries need to continually take advantage of as it evolves.
"The continual search for new technology is always there and it's very fundamental to ensuring the future."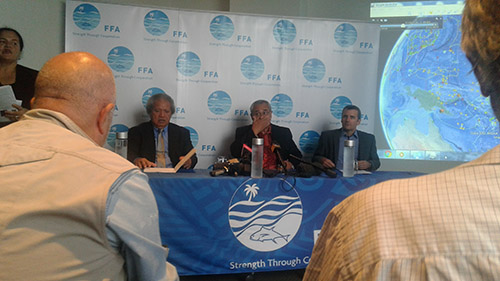 A lack of data in the longline sector (tropical longline and southern longline) however, both M-RAG Asia Pacific and the FFA agree, needs addressing.
The report argues stronger catch monitoring arrangements are required, singling out the fishery in both its main messages and measures to further deter illegal, unreported and unregulated fishing (IUU).
The lack of these arrangements are seen as a rather gaping weakness in the current MCS regime.
Longline fishing does not currently meet the Western and Central Pacific Fisheries Commission's five percent benchmark for observer coverage, a policy directive which has not escaped the notice of officials.
Souter says the five percent benchmark is currently being met by few fleets and says meeting this would "certainly be a very good first step".
Bolstering the network
Movick agrees and says reporting in the longline sector needs the most work, and will be a central focus in bolstering the current MCS network.
"We will be continuing the trials and moving beyond trials to the implementation of electronic monitoring surveillance, moving, where we can, to reduce fishing on the high seas, and to banning, where we can, transhipment."
Reporting and post-harvest offences accounted for around 58 percent of the total ex-vessel value (market value) of IUU activity.
But the bad news for the longline sector does not end there.
The FFA and Secretariat of the Pacific Community's Regional Roadmap for Sustainable Pacific Fisheries acknowledges its regional longline fisheries are "barely economic", while its Tuna Fishery Report Card 2015 highlights that "clear challenges and opportunities" remain in increasing returns from this fishery.
Longline fishing currently represents a small proportion in value for the FFA's Exclusive Economic Zones (EEZs), both in terms of catch value and value access.
Purse seine dominates both arenas, increasingly doing so since 1997, climbing to a catch value of over US$4 million.
Though longline fishing may be seen as a blight on the report's landmark implications, the blow is lessened by the report effectively debunking several misconceptions about IUU in the Pacific.
Illegal fishing culprits
The report has revealed that the source of illegal fishing in the Pacific is closer to home.
The most prevalent and costly form of IUU in the region is in fact from misreporting and underreporting by licenced vessels, and not rogue, pirate vessels as some may believe.
"Assuming catch transhipped illegally is taken by licenced vessels, IUU fishing by the licenced fleet accounts for over 95 percent of the total volume and value of IUU activity," the report says.
This is a stark contrast to the five percent of unlicensed vessels, and it is something officials have taken comfort in.
Movick acknowledges that although such illegal fishing is an affront to the Pacific's sovereignty, there has been marked improvement.
"We can take comfort that this is a big change from years gone by, where patrol vessels and aerial surveillance would routinely detect vessels in fishing areas that they were not licenced to be in."
However, it does not mean that Pacific nations have escaped unscathed.
Although the report has been able to place a more accurate dollar figure on the proportion of illegal catch — an estimated US$616 million — Movick says the actual loss is better reflected in looking at lost fishing access revenues.
"Using economic rent calculations this report estimates that the actual loss to Pacific Island countries from lost fishing access revenues is around $152 million."
Figures "bandied about in the past" have seen the loss estimated at between US$750 million to $1.5 billion.
Despite this, Elisala and officials agree, the report serves as an incentive for the Pacific to continue its fight against illegal fishing.
"It's a hard fight…but it is a fight that we have made significant ground on, and one that we will continue to challenge."
Kendall Hutt is a graduate journalist from AUT University, currently completing her Honours year in Communication Studies. She is reporting on the Asia-Pacific Journalism course.
Pacific Islands Forum Fisheries Agency

Pacific-wide study tipped to show 'real value' of lost fisheries