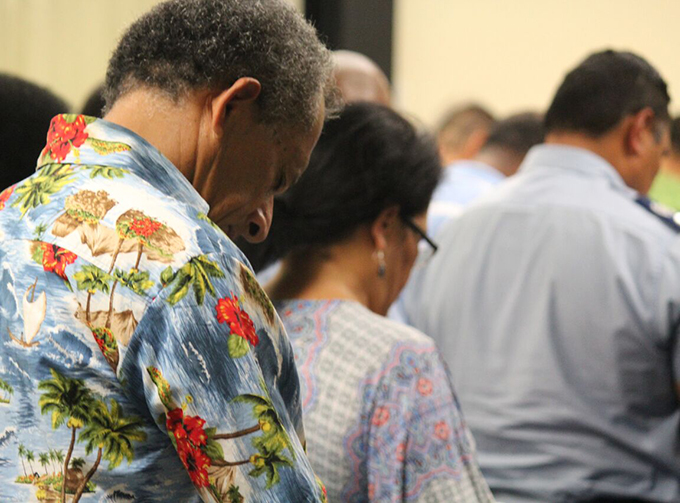 By TJ Aumua in Auckland
Auckland's Fiji community have mobilised together to action disaster relief efforts for their families back home in the Fiji Islands.
Community members assembled in Mangere last night fuelled with emotion and desperate to send help back home.
Those affected in Fiji have requested donations of  non-perishable foods, water, blankets, fishing rods and tools that can be used to help the rebuilding process.
The Fijian Community Association of Auckland and the Auckland Mayoral Committee confirmed two shipping containers would be made available soon so those wanting to contribute to relief efforts can donate.
Two main container loading points:
1. South Auckland
City Impact Church
385 Mt Wellington Highway
(Entrance via Apex Centre)
Mt Wellington
Fiji Community contact: Ratu Isoa Soqosoqo 021 269 5925

2. West Auckland
Church Unlimited
3 Te Atatu Road
Glendene
Fiji Community contact: Greg Traill 021 928 551
Relief items needed:
Non-perishable food items
Bottled water
Linen – blankets, sheets, pillows, towels
Clothes
Kitchen utensils
Pots/pans
Mosquito repellents
Money donations:

FIJI RED CROSS
Bank: ANZ Banking Group Ltd.
Account number: Account Number: 1313354 BSB: 010890 (applicable for international deposits)
Account Name : Fiji Red Cross Society Account
Swift code: ANZBFJFX (applicable for international deposits)
Please State in Narrative: TC Winston Fiji Red Cross Appeal and your name, If you need a receipt please contact Fiji Red Cross at: communications@redcross.com.fj
UNICEF
Fiji's Children Emergency Appeal: Donate through www.unicef.org.au/appeals/fiji-children-s-emergency-appeal
NEW ZEALAND RED CROSS
All their Pacific Disaster Funds will be directed to the Fiji crisis. Make your donation through their website: https://www.redcross.org.nz/donate/where-the-need-is-greatest/
AUCKLAND COMMUNITIES FOUNDATION
Auckland Communities Foundation (ACF) is a charitable foundation and a trusted vehicle that manages Auckland Council Mayoral Fund for the Pacific. Any donations should be made through ACF as follows:
a. Via the "donate now" function on the ACF website: www.aucklandcf.org.nz.
b. Via direct payment to the ACF bank account (with reference "MFP" to ASB Bank account 12-3028-0714703-00)
c. Via cheque made payable to "Auckland Communities Foundation Mayoral Fund for the Pacific" and sent to PO Box 26087, Epsom 1334.
FIJI GOVERNMENT
Donations can be made through the bank accounts below and donors will not be charged any fees, including overseas transactions. International donations can be made through the following account:
Bank: Australia New Zealand Banking Corporation
Account Number: 12628523
Account Name: Prime Minister's National Disaster Relief and Rehabilitation: Cyclone Winston
Swift Code: ANZ BFJFX
BSB: 010 890
HUMM FM Cyclone Winston Relief Fund Appeal – All funds collected will be given to the Fiji Red Cross. Make a donation to:
ANZ Bank Account: 06-0082-0015961200 Cyclone Winston Relief Fund; or
contact Roshilla on +675 849 7000.