Electricity sparks as powerlines snap during tropical cyclone Winston in Fiji yesterday. Authorities have declared a 30 day "state of natural disaster". Video: Earthsky 102
By Geoffrey Smith in Suva
Fiji military forces did not waste time early today as soldiers helped clean up debris around devastated parts of the country in the wake of tropical cyclone Winston.
Fiji Television showed scenes of destruction around the capital city Suva.
The recently donated Russian military vehicles were also put to good use this morning helping collect fallen branches on the streets.
This also comes as all 3 FIR troops of the Republic of Fiji Military Forces were ordered to report to the city's Queen Elizabeth Barracks by 3pm today.
All leave has also been cancelled.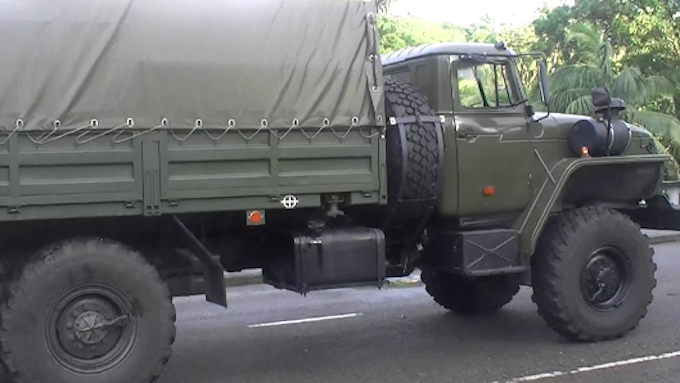 RFMF trucks departed from the Nausori police station to Suva from 3pm.
The Fiji Electricity Authority has also issued a strong directive for all members of the public to avoid broken debris and also treat all broken lines as "live".
Sikeli Qounadovu and Avinesh Gopal of The Fiji Times reported that the death toll was expected to rise further and that two mobile companies had provided free credit to their customers for contacting relatives following the disaster.
Earlier today, the National Disaster Management Office confirmed that five people had died so far from the monster cyclone.
More deaths
However, there were reports of two more deaths being recorded in Ba, said the Fiji Times report.
Ba Mission Hospital staff confirmed tonight that a man had been taken there after suffering injuries from window louvres at his home in Namau and died, taking the toll to six.
There were also unconfirmed reports of a police officer dying at Nailaga in Ba but circumstances relating to the death are not clear at this time.
Mobile credit
Two mobile companies gave free credit to their customers to be in contact with their loved ones during this time of natural disaster.
Vodafone Fiji and Digicel Fiji gave their customers $5 free credit.
Digicel Fiji chief executive officer Darren McLean said the company was saddened by the devastation caused by TC Winston.
McLean said to help Digicel customers stay in touch, the company had applied $5 of any network free credit to all prepaid numbers.
"This credit will allow our valued customers to call or text their family here and overseas," he said.
Vodafone New Zealand also announced it would credit calls and TXTs to Fiji until Tuesday.
The credit will apply to calls made from New Zealand landlines, or calls and TXTs made from New Zealand mobile phones, to Fiji from 9am Saturday, 20 February, through to midnight Tuesday, 23 February (NZT).
"Tropical Cyclone Winston has had a devastating impact on the Fijian Islands. As the scale of damage is becoming clearer, we know that New Zealanders will be trying to contact their loved ones to be reassured of their safety.," said Matt Williams, consumer director of Vodafone New Zealand.
"In addition to our offer to assist Fiji with repairs to communication infrastructure, we can support families by providing free calling."
The devastation in Lautoka Hospital in the west of Viti Levu island caused by tropical cyclone Winston. Video: Fiji government