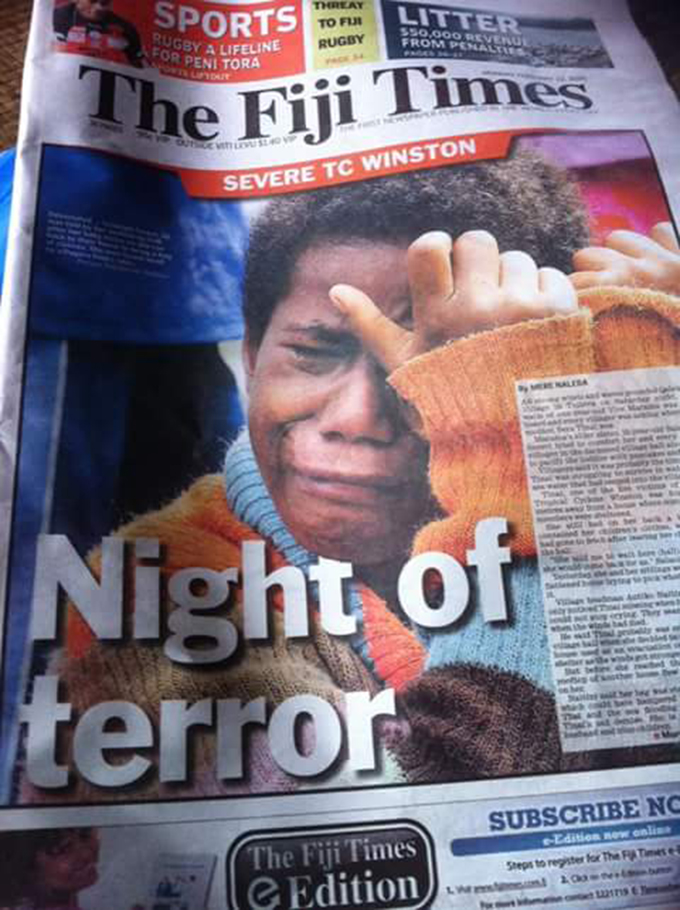 Fiji Times editor-in-chief Fred Wesley today praised the people of Fiji for their resilience and courage after severe tropical cyclone Winston punished the country in a "blaze of fury and power" at the weekend.
He described the sudden power the savage storm unleashed on the country as "shocking … frightening".
Wesley said the daily newspaper had sent out teams of journalists across the country yesterday, leaving at dawn on their mission to bring back stories and pictures of "five hours of horror" during the category 5 cyclone. Here is his Fiji Times editorial, entitled "Show of resilience":
By Fred Wesley, editor-in-chief of The Fiji Times
Severe Tropical Cyclone Winston went past us in a blaze of fury and power. Winston left behind a trail of destruction that the State is still assessing and people are still coming to terms with.
The official line is that five people [unconfirmed reports put the toll at 17] have died in the wake of Winston's severe beating of many parts of Fiji.
The power Winston unleashed on the country was shocking. We are yet to truly know the extent of its destructive sweep through Fiji.
Picking up strength after Tonga, Winston developed into a massive Category 5 system that was frightening.
It was unpredictable. At first the projected path curved through the Lau Group and pointed to the southwest of Viti Levu. It was expected to pass pretty close to the capital city.
Winston had other ideas. Picking up power, Winston moved straight to the West, cutting through Lau, Lomaiviti, and brushed over Ra before curving down south again. In its wake, it left flattened houses, uprooted trees, roof-less homes, flooding, frightened people, and death.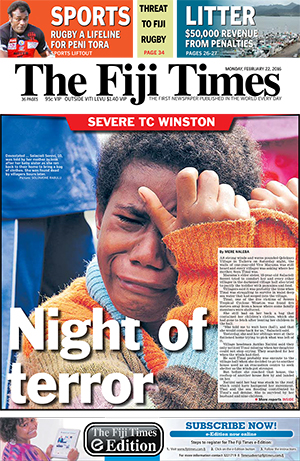 Scenes of destruction met first responders.
Today we try to bring you a picture of the destruction caused by Winston.
In the face of the horror are tales of heroics intertwined with sadness, frustration, and hope.
We sent teams around the country yesterday. They left at the break of dawn and travelled through scenes of devastation and sadness.
Five hours of horror
They returned with pictures and reports of the five hours of horror many Fijians faced on Saturday night.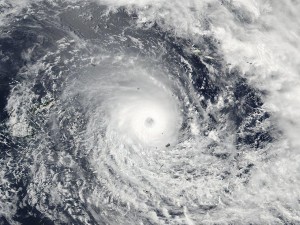 It was the strongest cyclone Fiji has faced in recorded history. Many relived their night of terror. They spoke of the sense of frustration and helplessness they faced in their own homes. Perhaps it is apt that we shower all those who are working to bring back normality to the lives of thousands of affected people around the country with acknowledgment.
Everyone from the disaster management teams, relief suppliers, NGOs, various charitable bodies, volunteers and the security forces deserve acknowledgment. As the State machinery picks up pace in disaster relief work, perhaps we all should see Winston as a reminder of the power of nature.
We live in a country prone to cyclones and the wrath of mother-nature. Faced with scenarios they came across yesterday, first responders would have been inspired though by the resilience of the people.
And this is something special about Fijians.
We are resilient. To be greeted with smiles, and offered what little they had in the face of the devastation, would have moved even the toughest man and woman.
As we go about our daily chores today, perhaps it would be appreciated if we gave those less fortunate than us some thought as they try to get back on their feet.