Compilation of scenes as tropical cyclone Winston batters Fiji. Video: World News
Five casualties have been confirmed in the aftermath of tropical cyclone Winston, reports FBC News.
This was confirmed by Prime Minister Voreqe Bainimarama this afternoon after attending a briefing with the National Disaster Management Office.
Bainimarama said Winston had left behind only destruction. However, he added that teams had been working hard to help people rebuild their lives.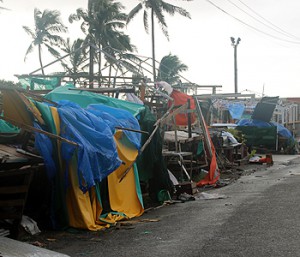 "Particular emphasis will be placed on reconnecting with our Eastern Division to our national grid so we can urgently assess and address the damage in our maritime regions," he said.
"We are also working hard to keep the Fijian people as updated as possible on the restoration process.
"In some cases the electricity has been intentionally cut off in order to prevent severe damage.
"When we are able [to] we will provide timelines for the return of water and power so that people can plan in the short term of how best to care for themselves."
Bainimarama said the national curfew would stay in place until 5.30am tomorrow.
He said the curfew was in place to protect lives and property and it was vital for everyone to respect this curfew.
Live blog: 350.org monitoring TC Winston
Earlier Asia Pacific Report stories
PMC Storify file on TC Winston + videos