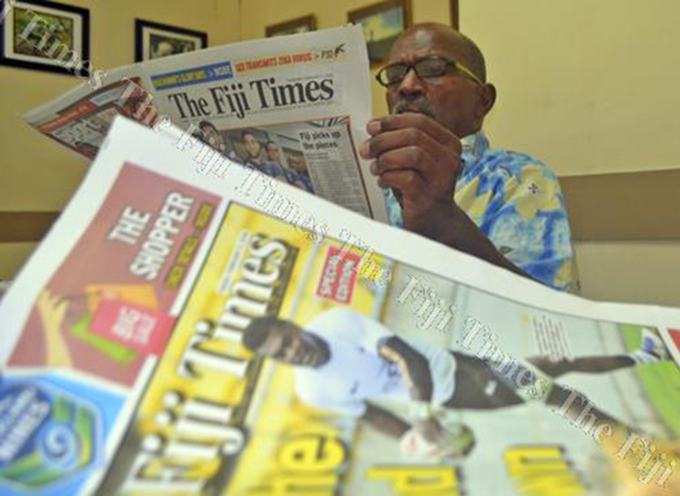 By Tevita Vuibau and Nasik Swami in Suva
The Fiji Times is publicly perceived to be a consistently better newspaper with better reach than its main competitor by readers surveyed in polls conducted recently.
The Tebbutt/Times poll administered by Tebbutt Research was conducted from September 7-10 and measured public perception of each newspaper.
A total of 1020 respondents over the age of 18 across Fiji's four divisions were surveyed and the perceptions of The Fiji Times were significantly different to those of its main competitor.
"When asked to rate each newspaper on the quality of their content; being committed and supportive of national unity, national identity development and nation building; being committed and supportive of the development of the Fijian economy; being committed and supportive of the welfare of all Fijians; and being unbiased and responsible in educating and informing all Fijians on development and government issues; The Fiji Times was consistently rated higher than the Fiji Sun across geographic regions and all other demographic variables recorded."
"In each case, the public perception of The Fiji Times was found to be significantly better than the perception of the Fiji Sun."
Fiji Sun publisher, Peter Lomas, when informed of a summary of the results, said he would have to view the full survey before commenting.
"I can't comment on a survey which I have not seen. Please send me a copy so we can test its validity," Lomas said.
Phone interviews
The survey interviews were conducted by telephone in which six questions were asked to respondents to gauge their views with interviewers trained to probe where necessary.
Private landlines and mobile phone numbers were called to achieve a national sample.
Landline numbers were selected from the Fiji White Pages listing, while random digit dialing (RDD) was used for mobile phones, with known prefixes for each carrier.
More than 10,000 numbers were loaded into a Computer Assisted Telephone Interviewing (CATI) system which randomly selected phone numbers to be called.
Speaker of Parliament Dr Jiko Luveni congratulated The Fiji Times, saying "the survey results reflect positively on the readership of The Fiji Times and I congratulate The Fiji Times for this achievement".
Opposition Leader Ro Teimumu Kepa said The Fiji Times had been the standard bearer for fair and balanced reporting and for decades it had maintained this position.
"It should, above all, strive to maintain this position no matter what the challenges bring," Ro Teimumu said.
More competitive
Fiji Media Association executive Stanley Simpson said while the results were favourable for The Fiji Times, an important point to note was that the newspaper business was becoming more competitive.
"I think a decade ago when the 2006 coup took place, The Fiji Times then would have had much more superior numbers and greater domination over the Fiji Sun," Simpson said.
"The Fiji Sun has made a strong challenge to close the gap, but The Fiji Times remains the number one at present. It will be important to continue to observe these trends going forward.
"I think the test will come down to consistency and standards and who can sustain this over a longer term."
Attempts to obtain a response from Attorney-General Aiyaz Sayed-Khaiyum were unsuccessful when this edition went to press.
FMA's Stanley Simpson comments