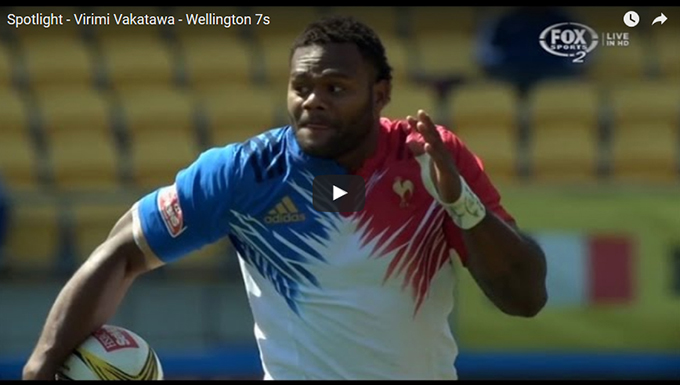 Report from Pacific Media Watch

By Paul Eddison in Caen, France

The call-up of Sevens star Virimi Vakatawa to France's Six Nations squad was a calculated gamble by new coach Guy Novès serving as both his most intriguing decision and proof of a major problem in French rugby.
At 23 years of age there is no question that the Fijian-born flyer is the star attraction in the French Sevens outfit, and has established himself as the most prolific offloader on the circuit since switching from XVs in 2014.
A rare combination of pace and power, Vakatawa's step and fend has become one of the most fearsome sights in the shorter format of the game and if he can transfer that threat into XVs, there is no question he will become France's most dangerous weapon out wide.
While his Sevens exploits were enough to convince Novès to give him a shot, there will be question marks over how ready he will be to play XVs, having made his last appearance for former club Racing 92 back in December 2013.
He does have 44 games in that format under his belt with the Parisian side after being enticed over by Sireli Bobo. Back when he arrived as a 17-year-old he weighed just 87kg, a huge contrast to his current powerful build.
Still, his background should at least ensure he acclimatises quicker than the likes of Semi Kunatani and Samisoni Viriviri, Sevens superstars who have made negligible impact after moving to the Top 14.
But the issue of Vakatawa's defence in XVs, as well as the difference in fitness required between the extreme athleticism of sevens and the longer grind of the 80-minute game, ensure this is far from a guaranteed success.
Worthy risk
Novès felt the risk was worth taking though, and as he did when talking about a number of other uncapped players, he explained that there was no time to waste.
Going forward Vakatawa could well be a fixture in the French squad, particularly after the Rio Olympics when he will return to XVs full-time, with Racing and Toulon battling for his signature.
Just over three years on from turning down a call-up by Fiji, it would appear that Vakatawa's gamble is starting to pay off.
Of course when it was revealed that he had said no to Fiji, it came at the same time as one of his compatriots also playing in France, and the example of Noa Nakaitaci should serve as a warning to Vakatawa.
One year his senior, Nakaitaci fully deserved his call-up by Philippe Saint-André, and started well, despite a hairy moment at Twickenham back in March.
But as France's World Cup campaign went south, so did Nakaitaci's reputation and confidence, and the latter still appears to be shattered as he missed out on Six Nations selection.
Add in talk of Josua Tuisova, Toulon's budding flyer who isn't currently eligible, and France's wing stocks could be packed with Fijians going forward.
Little surprise
That comes as little surprise with the Top 14 and Pro D2 both dominated by Fijians on the wing, in a position where les Bleus are desperately short of options. Only Castres and coincidentally Racing don't have a Fijian back three player, although even they have Sitiveni Sivivatu and Joe Rokocoko respectively.
Injuries don't help of course. Yoann Huget gets his fair share of stick in France, but is undoubtedly their best option when fit. At the moment he is still recovering from the ACL tear suffered in the World Cup opener against Italy.
Similarly Rémy Grosso likely would have made it but for a long-term injury, while Teddy Thomas, so impressive when he first broke through, has virtually disappeared from contention due to a succession of injuries. He last played a game in May and as it stands there is little indication of when he will return.
With those three absent, the cupboard is remarkably bare. Novès has gone with a collection of full-backs turned wingers in Benjamin Fall, Hugo Bonneval and Maxime Médard in the squad.
All are fine players in their own right, but the latter two at least prefer the 15 jersey. The other possibility is the return of Wesley Fofana to the wing, a much-derided move by Saint-André but conceivable given the paucity of options.
In terms of those challenging them, you have the pocket-sized duo Marc Andreu and Marvin O'Connor, both ignored and surely too small for Test rugby when faced with the likes of Julian Savea and George North.
There are other players getting game time out wide, but far too few and even fewer are contenders for France down the line.
Current vein
Last weekend saw the arrival on the scene of Louis Dupichot at Racing, and if he continues in his current vein he may yet make the squad for the June tour to Argentina.
Equally La Rochelle's Gabriel Lacroix could join club colleagues Kevin Gourdon and Uini Atonio sooner rather than later, but the promising Arthur Bonneval has not yet broken through fully at Toulouse.
The lack of talent coming through is a real concern. While Vakatawa and co might provide a short-term solution, the FFR should be worried that they are currently the only option.
Paul Eddison is a freelance sports journalist who writes for Planet Rugby. He is now based in Caen, France.

Virimi Vakatawa racing to his six tries in the 2015 Wellington Sevens tournament. Video: Fox on YouTube