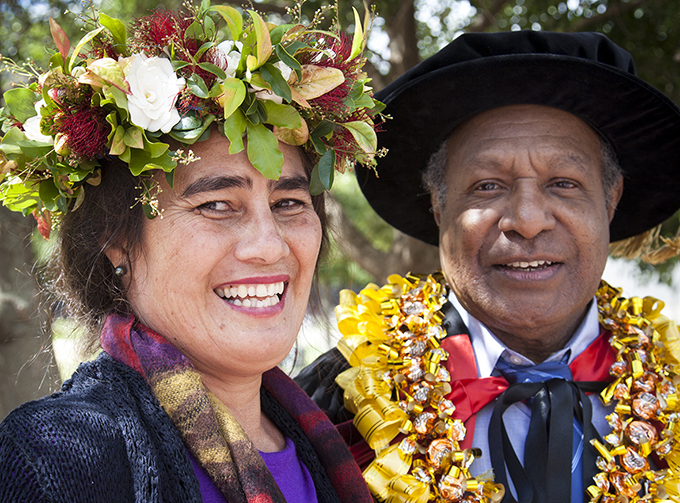 Report by the Pacific Media Centre

One of 53 doctoral students who have graduated at Auckland University of Technology this week is the first Papua New Guinea to gain a PhD at the New Zealand institution.
Jonah Tisam's research focuses on governance and the new public management outcomes in the Cook Islands.
He studied in the Faculty of Culture and Society under the supervision of Professors Peggy Fairbairn-Dunlopand Marilyn Waring.
Originally from Papua New Guinea, he has worked most of his life with the Cook Islands government.
Tisam said he wanted to look at what is behind the Cook Islands public management system – whose idea it was, the theories behind this phenomena and where they came from.
"I wanted to find out how the people at 'grassroots' level of society, the wider village communities, felt about the new system and how it affected them," he said.
Through his research, Tisam found many people did not know what this new public management system was, even though it had an impact on their lives and on their island communities.
Informed decisions
It was also his aim to bring to light findings that could help government and policymakers to make informed decisions.
Tisam was praised by his examiners for giving the people of the Cook Islands a voice.
"It is hard work but it pays off. Research is important to let our people know what is going on," Tisam said.
Tisam is one of only 18 students from Papua New Guinea studying at AUT in 2015.
Across all New Zealand Universities in 2014 there was a total or 67 international equivalent full-time students (EFTS) from Papua New Guinea.
A total of 3838 students received their qualifications at one of the eight ceremonies held this week at AIT, New Zealand's fastest growing university.
There has been a dramatic increase in postgraduate students studying at AUT, with 343 or 15 percent more postgraduate students than at the same time last year.
Follow the hashtag #AUTGRAD to see the graduates' experience on social media.