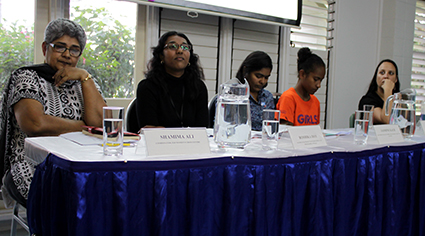 Report by Pacific Media Centre – By Kai Ping Lew in Suva
A panel of violence against women at the University of South Pacific has provided insights into the feminist movement in Fiji, the challenges in ending violence against women, and some of the innovative methods being used to tackle the issue.
Panellists speaking at USP last night were Fiji Women's Crisis Centre co-ordinator Shamima Ali, Fiji Women's Rights Movement executive director Tara Chetty, LGBTIQ and human rights activist Jasmine Kaur and UN Women Pacific Fund project manager Roshika Deo.
Ali spoke about the challenges to ending violence against women in the Pacific region, citing its entrenched patriarchal culture as one of the major factors resulting in the high number of incidents.
Chetty spoke about the GIRLS programme, encouraging young girls from a young age to use the power of voice to encourage more assertive and independent behaviour and prevent incidence of violence against women.
Kaur's speech featured the need to end the culture of silence in many Pacific societies which allows violence against women to continue and the need to have comprehensive sexual education in schools from a young age.
Deo touched on the role that technology can play in providing support networks for women facing violence, and the importance of sharing effective regional solutions in the Pacific in response to solving social problems including discrimination and violence against women.
The panel was organised and moderated by USP government, development, and international affairs lecturer Dr Andreea Torre.
Niklas Pedersen and Kai Ping Lew are postgraduate student journalists from AUT University on the Asia-Pacific Journalism course. They are in Fiji on a two-week internship with Repúblika Magazine and Wansolwara and will also file a series of reports for Pacific Scoop about their experience.
—