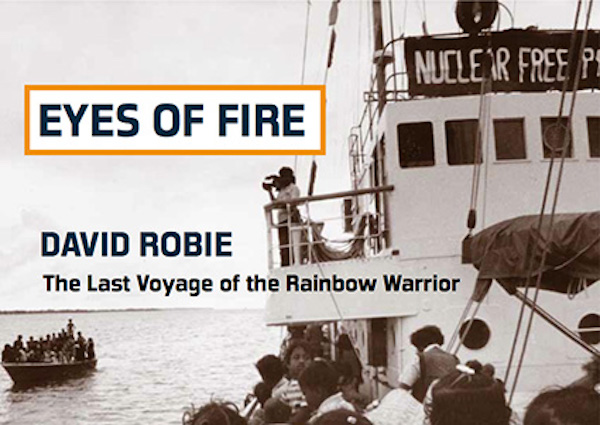 Analysis by David Robie. This article was first published on Café Pacific
WHEN the 30th anniversary edition of my book Eyes of Fire (Little Island Press) was published on the day last month marking the bombing of the original Rainbow Warrior on 10 July 1985, Susi Newborn questioned my account of the naming of the Greenpeace environmental flagship. She was involved in the buying of the Aberdeen-built fishing trawler Sir William Hardy that was then renamed as the Rainbow Warrior.
In the interests of historical accuracy, I have thus double-checked my sources for the book, including interviewing some of those involved at the time. I am quite satisfied there was no major inaccuracy in that section of my book comprising two paragraphs.
There was only a minor one which I am revising in future copies thanks to modern printing-on-demand technology. The decision to rename the rusty old ship Greenpeace UK had just bought was a collective one, taken in October or November 1977 at a small meeting on board the vessel in West India Dock, London, following a proposal made in writing a few weeks before by Rémi Parmentier to dub her Warrior of the Rainbow.
Those present at that meeting were Denise Bell, Charles Hutchinson, David McTaggart, Susi Newborn, Rémi Parmentier and Allan Thornton. Parmentier had first heard of the Rainbow Warrior Native American legend from a fellow called Georges Devez who had worked with him for some time in 1977-78.

The hand-written note, sent by mail from Paris by Parmentier to Greenpeace UK was stuck on a wall in the Greenpeace London office for some time. Bob Hunter's 1979 book on the seminal years of Greenpeace, Warriors of the Rainbow, was published two years later, but Parmentier says that it is quite possible that his colleague Devez could have heard of the Rainbow Warrior legend indirectly through Hunter.
Bob Hunter's book inspired me to write Eyes of Fire about the humanitarian mission to relocate the Rongelap people, suffering from the legacy of US nuclear testing in the Marshall Islands.
There are many variations of the Rainbow prophecy, not just the Navajo-Hopi version. Among other tribes to have interpretations of the prophecy were the Cree (one of the largest groups of First Nation Native Americans) in Canada, Cherokee, Sioux, Salesh and Zuni.
My inspiration for the Eyes of Fire book title was a Cree version of the legend, as represented in the title page preamble.
—