LIFESTYLE
Anabel Fernandez-Santana and Dr Camille Nakhid in the AUT research video. Pacific Media Centre Newsdesk Anabel Fernandez-Santana, who has been awarded an vice-chancellor's scholarship at Auckland...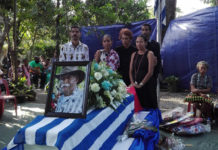 OBITUARY: By Sincha Damara in Port Moresby Bernhard Marjen was born in 1955 in Sorido, a village on the island of Biak on the West...
REVIEWS
The women's march in Jakarta. Video: UNANews By Katharina R. Lestari in Jakarta More than 1000 Indonesian women took to the streets of Jakarta this week...