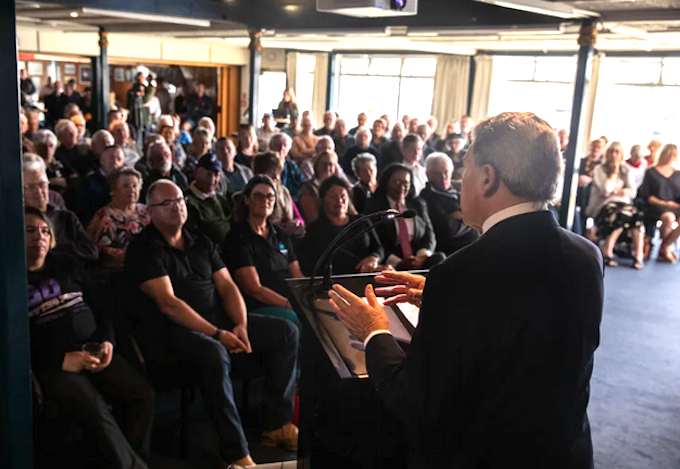 By Anneke Smith, RNZ News political reporter
New Zealand First leader Winston Peters has been spreading misleading climate information at public meetings during the Aotearoa general election campaign.
Climate change has been topical during the campaign, with extreme weather events like the Hawke's Bay floods still fresh in people's minds.
Both major parties have made clear commitments to New Zealand's climate targets, while Peters has been questioning the science and sharing incorrect climate information at public meetings.
At a gathering in Remuera last month Peters told voters, "Carbon dioxide is 0.04 percent of the Earth's atmosphere and of that 0.04 percent, human effect is 3 percent."
Three climate analysts, including NIWA's principal climate scientist Dr Sam Dean, have told RNZ this figure is incorrect.
"It is not 3 percent. Humans are responsible for 33 percent of the carbon dioxide that is in the atmosphere now," Dr Dean said.
Peters also told voters New Zealand was a low-emitting country and tried to link tsunamis to climate change.
"We are 0.17 percent of the emissions in this world and China and India and the United States and Russia are not listening . . .  The biggest tsunami the world ever had was 1968 in recent times.
"We've only been keeping stats for the last 100 years, but you've got all these people out there saying these are unique circumstances and they haven't got the scientific evidence to prove that."
Dr Dean said New Zealand might have low net emissions compared to other countries but there was no doubt Aotearoa was a "dirty polluter" — and tsunamis had nothing to do with climate change.
"Proportionately on a per person basis, our emissions are very high and we produce more than our fair share of the pollution that is currently in the planet," he said.
"As far as we know, tsunamis have nothing to do with climate change whatsoever."
RNZ put some of Peters' claims to him, asking him where he got the 3 percent figure he cited about the human impact on CO2.
"Oh, we've got somebody now that's arguing about the basic science . . .  I get it from experts internationally and if you want me to do all your homework, put me on a payroll," Peters replied.
Dr Dean who is an international expert is not the only scientist to debunk Peters' climate claims.
Waikato University's Dr Luke Harrington and Canterbury University's Dr David Frame have both looked at Peters' comments.
They describe his questions about the link between climate change and extreme weather events as "too cavalier" and "disingenuous".
"Climate change doesn't cause extreme flooding events in a vacuum — a whole range of natural ingredients need to come together in just the right way for an individual event to occur," Dr Harrington said.
"What climate change does is intensify the wind and rain which results when these natural factors combine and an ex-tropical cyclone passes nearby. Events of such intensity will become more common and events of such rarity will become more intense as the world continues to warm."
Dr Harrington suggested Peters "peruse" the Intergovernmental Panel on Climate Change's Sixth Assessment Report if he needed any evidence.
Dr Frame also referred to this report, saying there are strong links between (cumulative) anthropogenic emissions of CO2 and extreme rainfall events.
Dr Dean said inaccuracies aside, Peters' figures ignore methane emissions, making the problem seem much smaller than it really is.
"That sort of story comes from the climate sceptic community and it's a common tactic to phrase things in terms of very small numbers and then mix them up to trivialise the subject."
Other political parties may have vastly different approaches to emissions reduction but they all accept the climate science.
National Party leader Chris Luxon — who may well have to work with Peters — had been clear there was no room for climate scepticism in this election.
"Give it up, I mean we're in 2023. There's no doubt about it. You can't be climate denier or a climate minimalist," Luxon said.
This may be a big ask if Winston Peters is not on board with the science.
Early voting began yesterday in the general election and polling day is on October 14.
This article is republished under a community partnership agreement with RNZ.