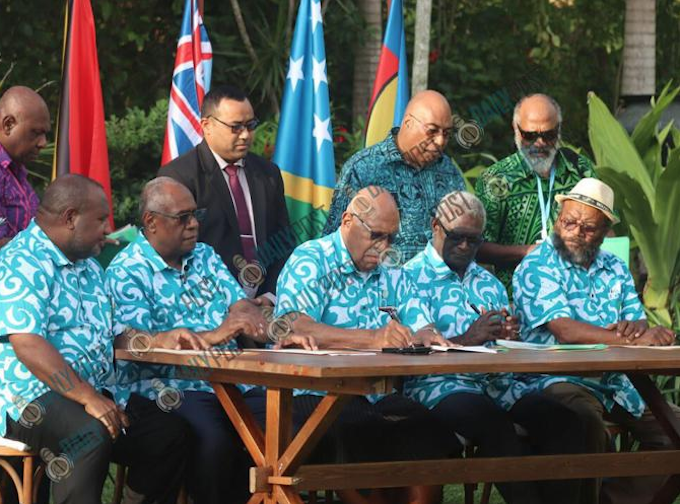 By Doddy Morris in Port Vila
Melanesian prime ministers have have signed off two declarations addressing the pressing issues of climate crisis and national security.
The ceremonial signing took place at the Havannah Resort in North Efate yesterday, marking the culmination of the 22nd Melanesian Spearhead Group (MSG) Leaders' Summit Retreat.
The signatories included host Prime Minister Ishmael Kalsakau of Vanuatu, Manasseh Sogavare of Solomon Islands, James Marape of Papua New Guinea, Sitiveni Rabuka of Fiji and Victor Tutugoro, spokesperson of the Kanak and Socialist National Liberation Front (FLNKS) of Kanaky New Caledonia.
The history of these agreements commenced with the inaugural accord inked in Lakatoro, Malekula, in 1994.
Subsequent gatherings saw the signing of a second pact in Port Vila in 1998, followed by the third document signed during a Leaders' Summit held in the Solomon Islands.
Prime Minister Kalsakau expressed satisfaction with the summit's proceedings, highlighting the successful collaboration that yielded two comprehensive documents. He noted that these papers were both "content-rich and orderly" in outlining MSG's strategic course on matters of importance to the region's people.
Kalsakau acknowledged the impact of strong and visionary leadership, which served to refine the direction and purpose of Melanesia, ensuring it remained steadfastly on the right course.
'Safeguarding' Melanesia
He said he was content with the summit's conclusion, characterising it as a "joyous occasion".
"To ensure the safeguarding of Melanesia's wellbeing and to achieve the highest levels of contentment among its people on the horizon, we have united as a collective whole,"  Kalsakau remarked.
Melanesian Spearhead Group leaders have signed off on two declaration for the first time. The first on climate and and the second one of security in North Efate a while ago. A presser will be held in Port Vila. West Papua issue likely to be referred to Pacific Islands Forum. pic.twitter.com/IJuzBnbjmE

— Kelvin Anthony (@kelvinfiji) August 24, 2023
He expressed gratitude to his colleagues for their contributions in shaping the final outcomes.
Concluding his address, Kalsakau invoked blessings upon the people of Melanesia and expressed his profound gratitude for the presence of all attendees.
This unity and collaboration, he affirmed, was the cornerstone of progress for the entire region.
The leaders shared in a tradition deeply rooted in Vanuatu culture — sharing a shell of kava to conclude the regional diplomatic dialogue.
Pacific Media Watch reports that there was no mention of West Papua or the long awaited full membership issues and a promised media conference had not eventuated.
Doddy Morris is a Vanuatu Daily Post reporter. Republished with permission.