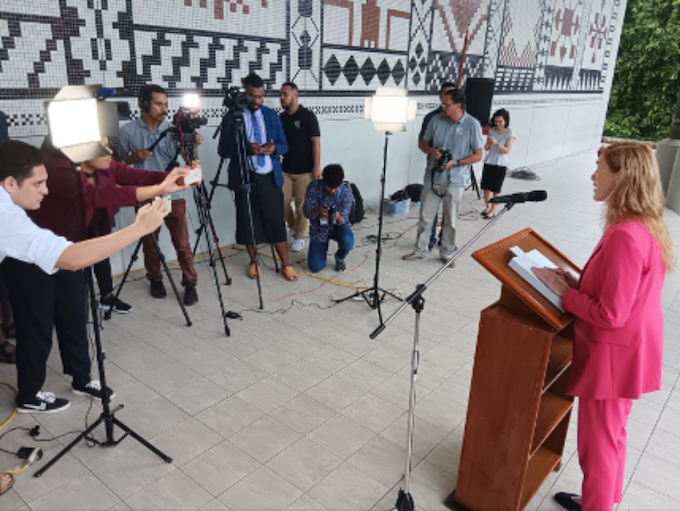 By Kalinga Seneviratne in Suva
The United States government's overseas development aid arm US Agency for International Development (USAID) opened two new offices in Papua New Guinea and Fiji last week, pledging to assist Pacific island countries in addressing the sustainable development goals (SDGs).
The last USAID office in the region was closed over 25 years ago.
The haste with which the US re-established these offices with its Administrator, Dr Samantha Power — a former Harvard professor, flying from the US to officiate in the ceremonies in Suva and in Port Moresby in PNG on August 15 has also got some sceptics in the region questioning its motives.
Addressing Pacific youth at a ceremony at the University of the South Pacific, also attended by the Pacific Island Forum's Secretary-General Henry Puna — a former prime minister of Cook Islands — Power said USAID was setting up an office in the Pacific to help them to directly "listen, learn, and better understand" the challenges that Pacific Island countries were facing.
"Our new mission here in Fiji and our office in Papua New Guinea — are not going to come in and impose our ideas or our solutions for the shared challenges that we face" she told an audience of students and academics from the region.
USP is one of only two regional universities in the world largely funded by regional countries. She described the two missions as "reinvigorated (US) commitment to the Pacific Islands".
At a number of times during her 20-minute speech, Power emphasised that USAID only gave grants and they did not give loans.
"As we increase our investments here in the Pacific, I want to be very clear — and this is subject to some misunderstanding — so please, I hope I am very clear," she said.
Not forcing nations
"The United States is not forcing nations to choose between partnering with the United States and partnering with other nations to meet their development goals.
"That said, we do want you to have a choice. It's not a choice that we will make for you, but we want you to have options.
"We want Pacific Island nations to have more options to work with partners whose values and vision for the future align with your own."
Although Dr Power did not mention China in her speech, this could be interpreted as a reference to the Chinese presence in the Pacific and the "rules-based order" the US and its allies claim to promote in the region.
She immediately added to the above comments by pointing out that USAID only gives grants.
"We are very interested in economic independence, and independence of choice and not saddling future generations with attachments and debts that will later have to be paid," she said.
"And we will engage with you openly, transparently, with respect for individual dignity and the benefits of inclusive governance, the benefits of being held accountable by your citizens, and we will join you in seeking to combat corrupt dealings that can enrich elites often at the expense of everyday citizens."
Training farmers in new techniques
Another area where they would allocate funding would be training farmers in new techniques to grapple with changing weather patterns and encroaching salt water.
She also announced the launch of a new initiative, a Blue Carbon Assessment, to quantify the true value of the marine carbon sinks across the Blue Pacific continent.
Referring to Dr Power's comments about reinvigorating the US's commitment to the region, Maureen Penjueli, coordinator of the Pacific Network on Globalisation (PANG), told IDN that this was a way to frame the US as a partner of choice by allowing the islanders to determine what is a priority in terms of their development.
"The US is not the only development partner that is suggesting this," she added, "Australia's recent Development Policy attempts to frame themselves is no different."
Referring to US ally Australia's aid policies, she pointed out that for decades there has been accusation of tied aid, "boomerang aid" by many of our development partners — or how aid is an extension of foreign policy and therefore it is by its nature extractive — an iron fist in a velvet glove".
"But its other implication is to subtly suggest that the US and its allies' goals are unlike what China does, which is to 'extract concessions' through this relationship either through ensuring that Chinese companies get the contracts, Chinese labour is recruited (as well as) many other forms of accusation of Chinese engagement in the region," Penjueli said.
During an interaction with the local media after her speech, a local television reporter told Dr Power that critics had been quick to say that the US was ramping up support in the greater Indo-Pacific region because it believed that American dominance was at risk.
"How do you respond to such an observation? And why should Pacific leaders choose US diplomatic support over Chinese support?", the reporter asked.
"Lots of experience around the world is the recognition that governance and human rights, and economic development go hand in hand," Dr Power replied.
"You can have economic development without human rights, but it's almost impossible to have inclusive economic development that reaches broad segments of the population.
"So, we really believe that a development model that values transparency, that ensures that private sector investment is conducted in a manner that benefits broad swaths of the population rather than like a couple of government officials who take a bribe or pay a bribe."
Grants at a time of a different model
Dr Power also added that USAID gave grants at a time when others were pushing a very different model, "which is much more about concentrating both political and economic power, which tends to stifle the voices of citizens to hold their leaders accountable, allows officials to do what they believe is right, but without checks and balances".
USAID is representing the reopening of the two offices as a follow up to President Biden's meeting with the Pacific leaders in Washington DC last year.
Its Manila-based deputy assistant director of USAID, Betty Chung, has told Radio New Zealand that currently there are just two staffers in Fiji but by the end of the year, they hope to have eight to 10 there, building up to about 30.
Also the USAID budget for the Pacific has tripled in the past three years.
In a joint press conference in Port Moresby, PNG Prime Minister James Marape has welcomed USAID's renewed commitments to the region and said that Power's presence completes what is President Biden's 3D strategy — diplomacy, defence, and development — in the focus to revamp the US presence in PNG and the Pacific.
He also referred to recent defence agreements signed with the US but said that it should not be a one-way relationship on how they relate to the US. He asked Power and UNAID to assist PNG in preserving their forest resources.
Pacific people need to watch
Pointing out that PNG is home to one-third of the world's forests and 67 percent of global biodiversity, Marape said that he had asked Dr Power to take the message back to the US and particularly to Congress "who sometimes offer resistance to support to emerging nations" — to help PNG to preserve its forest resources to offset the US "huge carbon footprint".
Referring to Dr Power's undertaking that she came to the Pacific to listen, Penjueli said that people in the Pacific needed to watch how USAID could translate this listening exercise into grant-making and in which areas and how they do it.
"For Pacific Island governments, I do believe that they are in a better place, this gives them more options to consider if they (foreign donors) support their own development needs particularly in the current context of a climate emergency, post-pandemic debt stress economies and an ongoing Ukraine war."
Dr Kalinga Seneviratne is a Sri Lanka-born journalist, broadcaster and international communications specialist. He is currently a consultant to the journalism programme at the University of the South Pacific. He is also the former head of research at the Asian Media Information and Communication Center (AMIC) in Singapore and the Asia-Pacific editor of InDepth News (IDN), the flagship agency of the non-profit International Press Syndicate. This article is republished under content sharing agreement between Asia Pacific Report and IDN.