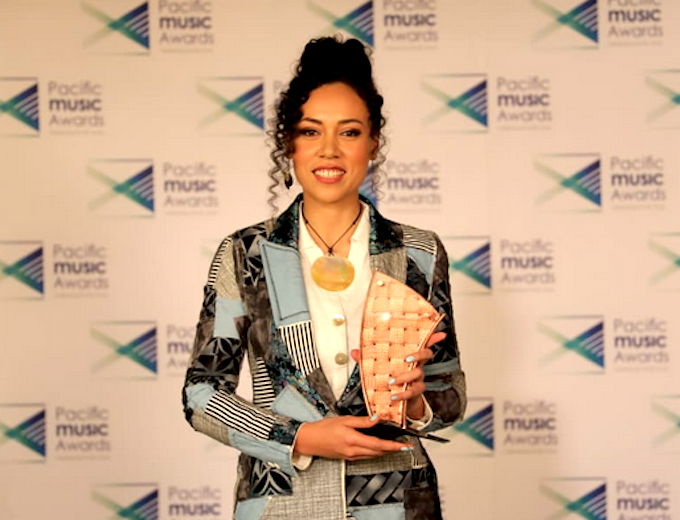 By Finau Fonua and Susana Suisuiki, RNZ Pacific journalists
It was an evening of celebration in Manukau, the heart of South Auckland, as Pasifika musicians from around New Zealand were recognised at the 2023 Pacific Music Awards last night.
The awards have been held annually since 2005 highlighting the "essential role Pacific music plays in defining culture and identity".
This year's big winners included rapper Melodownz, R'n'B crooner Sam V and Tokelauan singer Olivia Foa'i.
Pacific radio station 531pi were specially acknowledged for 30 years of broadcasting.
The station exclusively plays Pacific music and airs language programmes that cater to first- and second-generation Pacific migrants.
Pacific Media Network board chair Saimoni Lealea said 531pi had come a long way.
"This was a key service in the 1980s and 1990s," he said.
'Culture and tradition'
"It wasn't just an opportunity to air our music, it was also about communicating with our community and communicating with the government.
"Communities in the Pacific don't do things to be recognised or to be awarded because much of the things that they do are part of everyday life. 531pi is a medium through which the culture and tradition is transmitted, relived, strengthened and enhanced."
Taking out the Best Pacific Female Artist and Best Pacific Language award, Olivia Foa'i said continuing the legacy of previous winners in the language category was 'nerve-wracking'.
"You want to get it right," she said.
"Sometimes as an artist you feel like the weight is on your shoulders and you put out a song and maybe you're not representing well enough, and people hear it and you're like, 'oh what have I done?'.
"I think for me, I always feel that I'm repping the ones who maybe struggle a little to claim their language or who were brought up far from their communities. But it's a really beautiful thing, there's so much depth in connecting to the words or the vocabulary of your ancestors."
'Love Again'
R'n'B artist Sam V — real name Sam Verlinden — won Best Pacific Soul and RnB Award for his songs "Come Through" and "Love Again".
Sam V said the Pacific Music Awards promoted Pasifika artists and brought exposure to their music.
He criticised Auckland Mayor Wayne Brown for proposing budget cuts to social, arts and cultural services — a move which prompted an outcry among many artists in South Auckland.
"Why is he trying to cut the funding everywhere?" Verlinden questioned.
"Bro' should focus less on his tennis and more on looking after the young ones."
Samoan/Maori rapper Melodownz took out three awards for Best Male Artist, Best Music Video, and Music Album.
Upon receiving the award, Melodownz told the audience that it was a duty for Pasifika artists to give back to their communities.
'Huge for Hawai'i'
Overseas artists were also acknowledged and this year, Hawai'i's Josh Tatofi was named as the winner of the Best International Pacific artist award.
Receiving the award on behalf of Tatofi was his manager Tana Tupai, who said that Tatofi was among a bevy of musicians from Hawai'i such as Iam Tongi and George Veikoso aka "Fiji" who have gained fans all over world.
"It's huge for Hawai'i who have this massive wave of artists being acknowledged at such a global stage and Josh is happy to play his part, inspiring and connecting music from Hawai'i and the Pacific Islands across the globe."
Auckland Council Best Pacific Female Artist: Olivia Foa'i – Sunlight
NZ Music Commission Best Pacific Male Artist: Melodownz – Lone Wolf
Flava Best Pacific Group: Deceptikonz – In Perpetuity
531pi Best Pacific Gospel Artist: Punialava'a – Tagi Le Atunu'u Pele
Matai Watches Best Pacific Hip Hop Artist: Poetik – Hamofied Tre
Best Pacific Soul/RnB Artist: Sam V – The one, the lonely EP, Come Through, Love Again
Best Pacific Roots/Reggae Artist: Three Houses Down – The Dream, She Loves Me
Niu FM Best International Pacific Artist: Josh Tatofi – Prisoner of Love, Sweet Loven, Landslide, Still the One, Pua Ahih'I, Good Morning Beautiful, Tomorrow
MPG/SAE Best Producer: Mareko x Ricky Paul – Untitled: ACT 1 (Producer: Ricky Paul Musik)
NZ On Air Best Pacific Music Video: Melodownz – Pray For More ft Lisi, Mikey Dam (directed by Connor Pritchard)
APRA Best Pacific Song: Victor J Sefo – 685 (Written by Victor J Sefo, Ventry Parker, Elijah Tovio)
SunPix Best Pacific Language: Olivia Foa'i- Sunlight
Recorded Music NZ Te Pukaemi Toa O Te Moana Nui A Kiwa | Best Pacific Music Album Award: Melodownz – Lone Wolf
NZ On Air Radio Airplay Award: SWIDT ft Lomez Brown – Kelz Garage
NZ On Air Streaming Award: Savage ft Aaradhna – They Don't Know
SunPix People's Choice Award – Best Pacific Artist: Wayno
Phillip Fuemana Award – Most Promising Pacific Artist: Teo Glacier
Creative New Zealand Award: Lady Shaka
Ministry for Pacific Peoples Special Recognition Award: 531pi
Ministry for Pacific Peoples Special Recognition Award: Mark Vanilau
Arch Angel Independent Music Award: Victor J Sefo
Manukau Institute of Technology Lifetime Te Pukenga Achievement Award: Toni Williams
This article is republished under a community partnership agreement with RNZ.