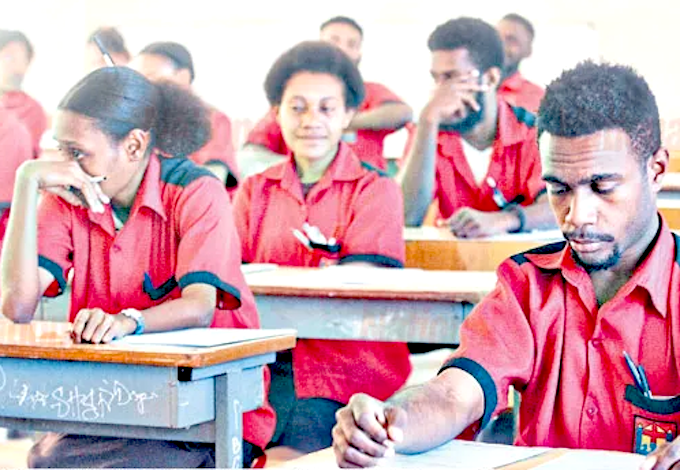 By Joy Olali and Max Oraka
Papua New Guinea's literacy rate stands at 63.4 percent — the lowest in the Pacific — with the government planning for it to reach 70 percent by 2027, an official says.
Career Trackers chief executive Ellenor Lutikoe told the National Content Conference in Port Moresby that according to the medium-term development goal, the literacy rate should reach 70 percent by 2027.
She highlighted three skills lacking in the workforce:
READ MORE: Illiteracy: A growing concern in PNG
Basic English skills;
Basic business skills including digital literacy; and
Relevant and practical working knowledge related to the role they apply for.
"Personally, I strongly believe that literacy is the foundation for an individual," she said.
In 2000, PNG had a literacy rate of 57.34 percent, in 2010 the rate increased by 4.26 percent to 61.6 percent and today it was 63.4 percent — an increase of 1.8 percent.
It needs to increase by 6.6 percent to reach the 2027 target of 70 percent.
On-the-job training
Lutikoe said one of the ways to address these challenges was through on-the-job training programmes offered by companies, including Career Trackers.
Adventist Development and Relief Agency (ADRA) chief executive officer Darren Yorio agreed that one way of addressing such challenges faced by employees was through literacy programmes.
Yorio said many parts of PNG faced many social issues because illiteracy had continued to delay the progress of national development.
He said the literacy rate was low compared to other Pacific island countries, and the government must work with other players to address the issue.
"If there is a serious area we need to address, it is the issue of illiteracy. It is important that we maintain that level of rigorous focus on partnership to effectively continue the progress of development," he said.
Dr Kilala Devette-Chee, a senior research fellow and programme leader of the Education Research Programme at the National Research Institute, said PNG could reduce its high illiteracy rate by implementing the strategies recommended in her research report "Illiteracy: A growing concern in Papua New Guinea".
"The literacy level in different parts of PNG has continued to be a matter of national concern," she said.
"Although the government has taken a number of measures to improve literacy in the country, more and more students who are dropping out of school are either semi-literate or illiterate."
The strategies included:
Reviewing the provision of free education to allow more children to attend school;
Developing awareness on the importance of education;
Encouraging night classes for working people ;and
Re-establishing school libraries to promote a culture of reading.
According to Dr Devette-Chee's study, the root causes of the poor literacy outcomes include weak teaching skills and knowledge, diverse languages, frequent teacher and student absenteeism' and lack of appropriate reading books and teaching support materials.
The Outcome-Based Education (OBE) which promoted the use of vernacular languages in elementary schools with a transition period to English in Grade 3 failed a lot of students due to improper implementation of the programme.
Joy Olali and Max Oraka are reporters with The National newspaper. Republished with permission.