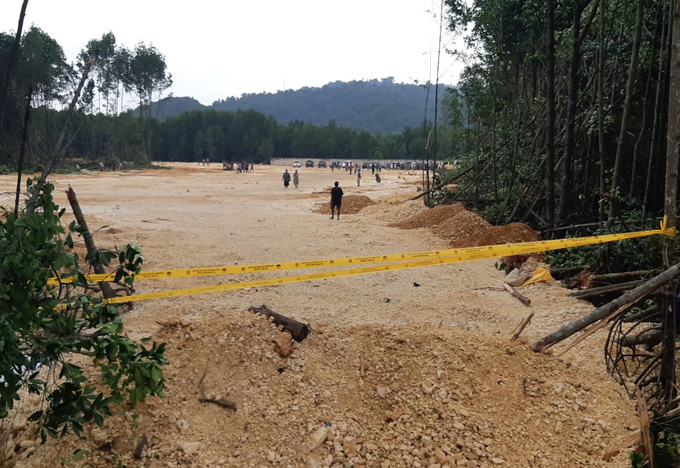 Media organisations in Papua — including the Alliance of Independent Journalists (AJI) of Jayapura City, the Indonesian Journalists Association (PWI) of Papua and the Indonesian Television Journalists Association (IJTI) of Papua — have lambasted intimidation against Abdel Gamel Naser, a reporter with the Cenderawasih Pos.
The incident occurred while he was covering the issue of mangrove forest destruction in the Youtefa Bay Nature Park conservation area in Jayapura City last Tuesday.
Gamel, as he is commonly known, allegedly faced intimidation from two police officers who were present near the location.
The officers approached Gamel and questioned why he was photographing the area.
Despite explaining that he was a journalist, the officers forced him to delete three images from his reportage.
"To avoid further conflict so I can continue my reporting elsewhere, I deleted the photos," he explained.
"As I was leaving the location, [the police officers] issued further threats," Gamel said in a press release issued by the media groups.
A halt to logging
Gamel was among a group of about a dozen journalists who were covering the halt of logging and material stockpiling in the mangrove forest area of Youtefa Bay Nature Tourism Park.
The halt was carried out by the Papua Forestry and Environment Service, the Papua Natural Resources Conservation Center, and the Papua Police Special Crimes Unit.
According to Gamel, the intimidation occurred while he was capturing images near a location where police lines had been established, and several police officers were nearby.
Lucky Ireeuw, chair of the AJI Jayapura, strongly condemned the alleged intimidation faced by Gamel during his work. he said such repressive actions hindered the exercise of press freedom in Papua.
"The intimidation suffered by Gamel obstructs press freedom and violates Law No. 40/1999 on Press," Ireeuw said.
He called on the Papua police to take decisive action against the officers implicated in the alleged intimidation.
"We urge the police to ensure press freedom in Papua," Ireeuw added.
'Arrogant' display
Meanwhile, PWI Papua deputy chair Ridwan Madubun strongly condemned the "display of arrogance" that resulted in the intimidation of his fellow journalist Gamel. Madubun saoid such actions were unjustifiable, especially when they happened while journalists were carrying out their responsibilities in the public domain.
He also expressed dismay at the ongoing repressive acts against journalists in Papua.
Journalists are safeguarded by law in carrying out their coverage duties to inform the public.
Papua police spokesperson Senior Commander Ignatius Beny Ady Prabowo said efforts had been made within the police institution to educate officers about press freedom since their training at the National Police School.
"I have just been made aware of the alleged intimidation against Gamel," Prabowo said.  "Journalists who encounter such incidents can report them to our Internal Division."
Republished from Jubi with permission.