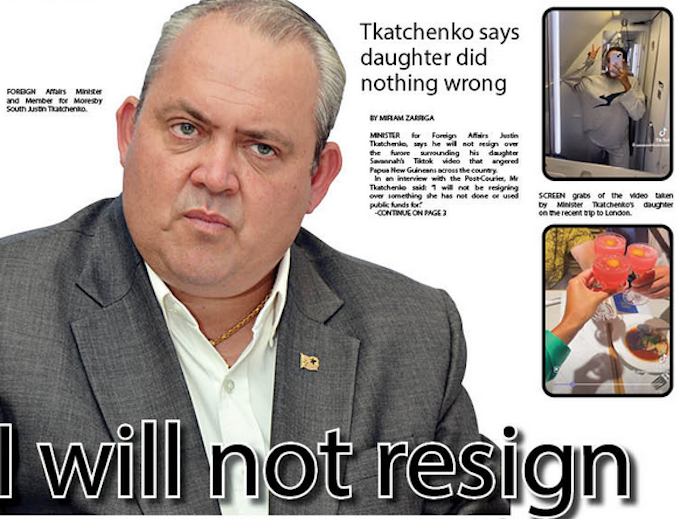 By Miriam Zarriga in Port Moresby
A defiant Foreign Affairs Minister Justin Tkatchenko says he will not resign over the furore surrounding his daughter Savannah's TikTok video that has angered Papua New Guineans across the country.
In an interview with the PNG Post-Courier, Tkatchenko said: "I will not be resigning over something she has not done or used public funds for."
"Yes what she did was not appropriate at the time. However, what she did for PNG in representing the country was welcomed by all who met her."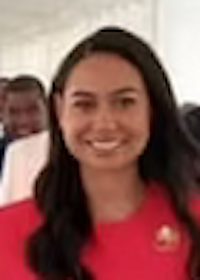 In two separate videos shared on social media platforms, Savannah Tkatchenko was seen as "flaunting and showing off" by many who viewed the videos in the midst of recent news of the spending of taxpayers' money amounting to K3 million (NZ$2.7 million) on the trip to the King Charles III Coronation last week.
When asked on the spending money allocated to the travelling team from the Foreign Affairs office, Tkatchenko said: "K25,000 is equivalent to £5000. That money is given for accommodation, food, and other necessities that may be needed.
"The daily allowance given to everyone who travels and is regulated by the Public Service," he added.
"Let me remind everyone that three months ago, I have banned travel by any other Foreign Affairs personnel unless it has been approved by the Secretary or my office.
Calls for PNG foreign minister Justin Tkatchenko to be sacked and have his citizenship stripped after labeling critics of his daughter's TikTok video "primitive animals".

It comes less than 2 weeks before US President Joe Biden visits PNG. https://t.co/QMJnHgXjTP

— Marian Faa (@marianfaa) May 11, 2023
Foreign Affairs contingent
"I had with me my daughter, my bodyguard and my protocol officer. We travelled as part of the Foreign Affairs contingent and not as part of the Governor-General's contingent."
Tkatchenko further explained the circumstances surrounding the trip and how his daughter joined him.
When it was made known that Prime Minister James Marape would not be travelling, a notice was given to Buckingham Palace that I would take his place. An invitation was sent for myself and my spouse to travel," Tkatchenko said.
"However, my wife could not travel with me, and thus, I took my daughter. We advised Buckingham Palace of the changes and Buckingham Palace approved my plus one," he added.
"There is nothing wrong with what happened, my daughter did not misuse any public funds and that has all been totally misrepresented."
"She is traumatised and her character has been defamed. She understands what she has done, and I did speak to her and told her it was not appropriate for her to take that video," the minister added.
Minister Tkatchenko said: "It was upon my advice that she deleted her TikTok account and she is aware of what she has done."
"Again, I reiterate I will not resign."
Miriam Zarriga is a PNG Post-Courier journalist. Republished with permission.
Publicly funded Hilton Hotel at the centre of a financial black hole | PNGi

"It was APEC Minister, Justin Tkatchenko's landscaping company, PNG Gardener that reportedly supplied many of the plants that adorn the site." https://t.co/KYe0gaIfuG

— Stret Pasin 🌴🥥☕️✈️ (@Stret_Pasin) May 10, 2023