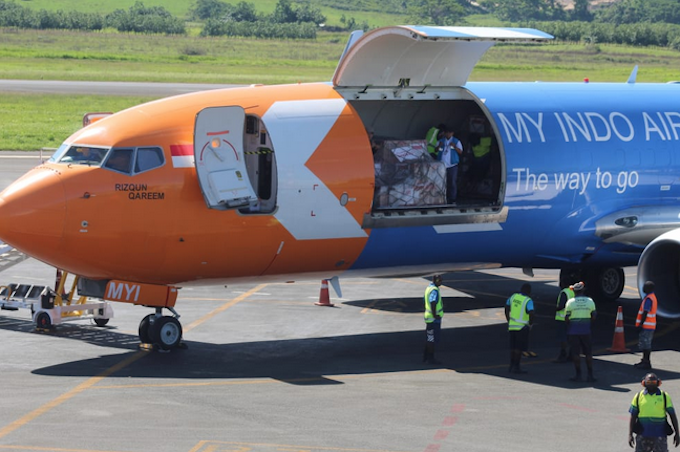 Indonesia has sent 30 tonnes of relief supplies to aid the Vanuatu government's recovery efforts post three major natural disasters earlier this year.
The humanitarian aid has been delivered on a My Indo Airline B737-800 cargo aircraft that departed from Soekarno-Hatta International Airport and landed at Vanuatu's Bauerfield International Airport today.
A representative of the Indonesian embassy in Canberra, Doddy, said the relief consisted mainly of food, tents and agricultural tools.
According to BBN Breaking News, Indonesia is also sending a 14-member humanitarian mission to Vanuatu.
"The team will include representatives from the Coordinating Ministry for Cultural Affairs, Foreign Affairs Ministry, the National Disaster Mitigation Agency (BNPB), and the State Intelligence Agency (BIN)," BNN Breaking reported.
"They will work closely with local authorities and international organisations to ensure that the aid is distributed effectively and efficiently."
"Indonesia's commitment to providing aid to Vanuatu showcases its strong ties to the Pacific region and its continued efforts to promote regional cooperation and support.
It also highlights the importance of international solidarity and cooperation in addressing global challenges."
However, the vice president of the Vanuatu Free West Papua Association, Lai Sakita, who was at the airport this morning, said the arrival of the relief supplies was "suspicious".
He warned that the Vanuatu government needed to be very careful of the Indonesian assistance with the Melanesian Spearhead Group (MSG) leaders summit due to be held in July this year.
The Free West Papua movement wants the MSG leaders to approve West Papua's application to become a full member of the sub-regional agency at this summit.