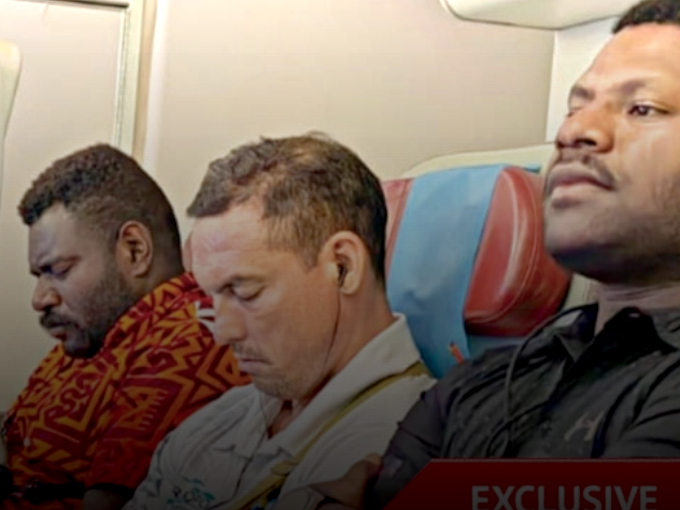 By Miriam Zarriga in Port Moresby
Papua New Guinea has deported controversial Australian businessman Jamie Pang.
Surrounded by Immigration and Citizenship Authority officials and police, Pang was taken to Jackson's International Airport yesterday at 3am and deported.
Chief Migration Officer Stanis Hulahau said that the movement of Pang came about after his acquittal on rape charges on Wednesday afternoon.
"Pang has no legal right to remain in PNG, his visa and work permit have been cancelled, his visa was made void and he is now blacklisted for life," he said.
"We don't need people who disregard our laws."
Pang, 45, was handed over to Australian authorities at about 10am because they have an interest in him for other incidents which they will be interviewing him about under Australian law.
When contacted by the PNG Post-Courier, Hulahau said that the deportation of Pang was a warning to all foreigners who wished to do business in the country to abide by and respect the law, and to also not get involved in illegal activities.
Breached visa conditions
In 2022, Pang was charged for breaching his visa conditions and was ordered by the Waigani Grade-Five District Court to pay a fine of K4000 (NZ$1800).
That year, he was charged under the Migration Act when he was found in a hotel with drugs and firearms.
At the time, Hulahau said that the conditions of his work permit and visa included not getting into any criminal activities.
"Once that was breached he was charged and he paid a fine, from there his visa was marked as void," Hulahau said.
"This is a warning, there is zero tolerance on such incidents."
Police Commissioner David Manning said that all foreigners should be aware of Papua New Guinea's laws and respect the rule of law.
"As guests of this country they are expected to abide by all our laws," he said.
"If found guilty of breaching our laws and that has been determined under a court of competent jurisdiction they are required to be deported back to their country of origin upon completion of their sentence."
Caught by surprise
According to sources, Pang was caught by surprise after being acquitted of the rape charge and was on his way out of the Bomana Correctional Services prison when he was served detention orders by Immigration officials at the gate of the Bomana prison.
It is alleged he refused to go with the officials. However, he finally got into a waiting vehicle and was taken to the Bomana Immigration Centre (BIC).
At BIC he was taken early yesterday morning to Jackson International Airport.
He was quickly taken in with Post-Courier on hand to witness Pang walking up the stairs into the boarding lounge at about 5.30am.
The flight he was on left the country at 6am.
"You cannot disrespect our laws and our country and expect to continue to stay here," Commissioner Manning said.
"This also applies to those expatriates who meddle in matters of national security and sovereignty.
Deemed 'unfriendly'
"Do not for once think under some preconceived notions that you will not be held accountable.
"You will deemed as acting unfriendly towards our country."
"I say this because there has been an increase of reports and cases of expatriates who continue to deliberately hold our way of life in contempt, including undermining systems and the authorities, often putting those authorities on a collision course with each other.
"No country in the world would tolerate this behaviour. PNG is no exception."
Hulahau said that the laws of the country was in place to ensure people followed the laws.
Miriam Zarriga is a senior PNG Post-Courier journalist. Republished with permission. Read the original story here.