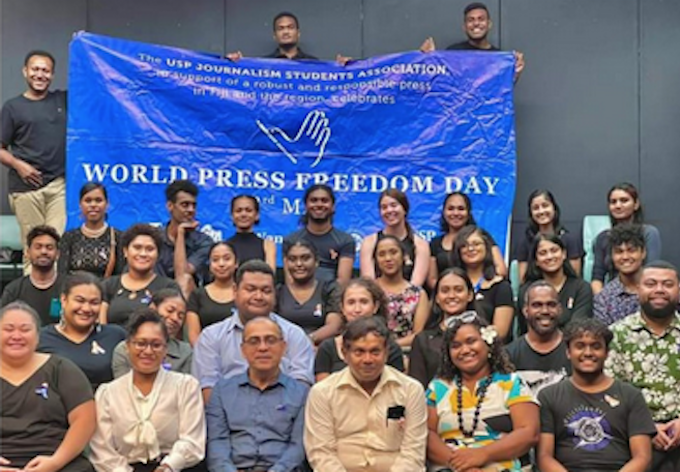 By Finau Fonua, RNZ Pacific journalist
World Press Freedom Day has been marked by journalists around the world, including the Pacific.
Launched by the United Nations in 1998, May 3 is a day of solidarity among the world's media, in particular with journalists who are being persecuted in autocratic nations and war zones.
It serves as a day of celebrating the development and improvement of media landscapes.
Perhaps the biggest trophy for press freedom in 2023 has been the return of press freedom in Fiji via the repeal of the repressive media law — the 2010 Media Industry Development Act.
"It hung over our heads like the sword of Damocles , forever threatening the very foundation of media freedom," said Fiji Times editor-in-chief Fred Wesley.
The draconian law introduced by former Prime Minister Voreqe Bainimarama imposed severe restrictions on freedom of expression and the ability of the press to report on any controversies involving the government.
It was a dark era for the independent media, who endured intimidation and the threat of imprisonment.
"Liabilities applied if the 'content of any media service which is against public interest or order, or national interest, or which offends against good taste or decency and creates communal discord'," said Wesley.
"An editor was liable for a fine of $25,000 and two years in jail.
"With that repeal we are now free to report freely and to express opinions freely."
The ousting of Bainimarama's government in last year's general election would change everything.
Incoming leader Prime Minister Sitiveni Rabuka had promised to bring back media freedom, and on April 6 Fiji's Parliament voted to repeal the act.
"I remember an overflowing of emotions that morning," said Wesley.
"It was overwhelming, I remember trying to keep the tears away but it was truly emotional, it was like a weight had been lifted off the shoulders."
PNG journalists threatened with state control
While Fiji's media has been liberated, their Melanesian counterparts in Papua New Guinea are facing the potential threat of state control.
In March this year, a media act was drafted in PNG's Parliament, proposing the creation of a state body to replace the independent Media Council of Papua New Guinea which regulates the licensing of journalists.
"We still enjoy media freedom in Papua New Guinea but currently we have a proposal by the government to control the media, but it's still in the draft form," said journalist Gorothy Kenneth of the PNG Post-Courier.

Scott Waide, an independent journalist and former Lae-based deputy editor at EMTV, is equally concerned.
"The Media Council is working through this, trying to restructure itself, trying to get everybody on board so that this policy in its current form doesn't get through," said Waide.
"I guess the overall picture is that we need a lot of help in terms of welfare of journalists, in terms of training so that is a message we have conveyed to the policy makers.
"We have a relatively free media, we can say what we want, but do we get resistance from various sectors."
Press freedom flourishing in Tonga
For Tongan journalists, the kingdom's media landscape is a vast improvement from the past when they endured repressive media laws.
The young democracy has undergone a rocky transition from an absolute monarchy to an unsettled democracy.
Taimi 'o Tonga editor Kalafi Moala was jailed in 1996 for contempt of Parliament, and his paper was temporarily banned in 2003.
"It's so much better today, nobody is in jail and nobody has been persecuted for anything," said Moala.
"There are defamation laws that anybody can take the media to court if they feel there has been irresponsible reporting, but in terms of freedom to speak, freedom to publish and to broadcast — it's alive in Tonga.
"And we're enjoying it."
Samoan journalists hurdle barriers
Media freedom continues to thrive in Samoa but accessibility to information remains a challenge for journalists.
Complaints have arisen over late government media updates, and during the 2021 general election, several villages banned journalists from attending district gatherings.
"Freedom of the press is something that is not a part of our culture," said Lagi Keresoma, head of the Journalist Association of Samoa (JAWS), who is hoping things will improve.
"We're still facing barriers in getting information, not only from the government, but from other organisations."
"We have a new government that we hope will address these issues — they still have open door policies unlike the previous government, but there are still times where they give us the runabout."
Varied freedoms in Micronesia
For the Micronesian nations, the journalistic landscape varies.
In Nauru, a nation of about 12,000 people, there is no independent media and foreign journalists are required to pay a visa of US$6,000.
In 2018, TVNZ Pacific correspondent Barbara Dreaver was detained by authorities after visiting a refugee camp on the island.
The closed-off environment means there is low transparency of the issues in Nauru and the controversial Australian detentions camps that hold refugees.
It' is the opposite case for the Marshall Islands where independent media thrives.
Recently two Marshallese MPs proposed greater media regulation, but it was struck down.
"The appreciation of most people, both in government and in the public about media freedom is really good," said the editor of the Marshall Islands Journal, Giff Johnson.
"It's meant that we have a fairly robust and open ability to publish what we want to."
According to UNESCO, 87 journalists and media workers were killed in 2022 around the world — an average of one fatality a day and a 50 percent jump from the previous year.
High profile deaths included Fox News camera man Pierre Zakrzewski covering the war in Ukraine, and Al Jazeera journalist Shireen Abu Akleh, a Palestinian covering the Israel occupation in the West Bank.
In the latest World Press Freedom Index issued by Reporters Without Borders, Samoa has been ranked 19th, up from 45th.
Tonga is ranked 44th, Papua New Guinea 59th and Fiji is 89th, up from 102nd last year.
Each year, Reporters Without Borders evaluates the environment for journalism in 180 countries and territories.
This article is republished under a community partnership agreement with RNZ.