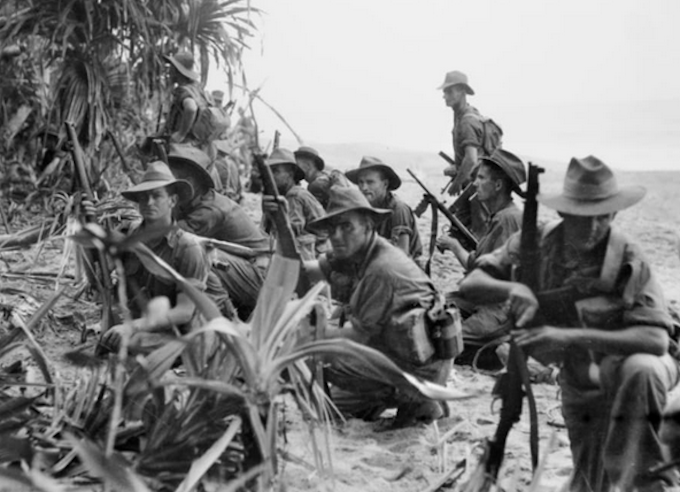 By Finau Fonua, RNZ Pacific journalist
Anzac dawn ceremonies have been held across the Pacific region, with tributes paid to both Anzac and Pacific Island soldiers killed in the two world wars.
Papua New Guinea
In Papua New Guinea, World War II veterans were among those who attended a dawn service held at the Bomana War cemetery in Port Moresby.
Bomana is the largest war cemetery in the Pacific, containing the graves of 3779 service personnel, the majority of whom were Australian — many of whom fought while sick with malaria.
"Their suffering was immense and endurance beyond measure," Australia's Minister for International Development in the Pacific, Pat Conroy, said in his speech.
"They died in defence of Australia. What happened here is important to our national story and forged a deep friendship between Australia and Papua New Guinea," he added.
The empire of Japan invaded Papua New Guinea in 1942, capturing more than half of the country before being pushed back by an Allied counter offensive — a campaign which resulted in the deaths of more than 7000 Australians, 4684 Americans and more than 200,000 Japanese.
An unknown number of Papuans were killed, many of whom served as scouts and stretcher-bearers.
Papuan deaths included 40 members of the Papuan Infantry Battalion who died fighting alongside the Anzacs.
"We will never forget the Papua New Guineans who fought alongside and supported the Australians in the hardest of times," said Conroy.
"Forty graves are of soldiers from the Papuan New Guinea Battalion who fought bravely alongside the Australians."
Samoa
Samoa became a battle front in 1914, when the then German colony was invaded by the New Zealand army in a bloodless take-over. A number of Samoan Anzac soldiers served in the World War, three of whom are known to have died.
Prime Minister Fiame Naomi Mata'afa acknowledged Samoa's war contributions in her Anzac Dawn Ceremony speech in Apia.
"Anzac Day provides us with a reminder of the close and enduring links between Samoa and its Pacific working in close collaboration to ensure that we can coexist in a region of peace and stability."
"As we consider the enormity of the sacrifice made, let us remember that their true and lasting legacy are the freedoms we continue to enjoy to this day."
American Samoan US Army representatives were honoured at the service for their sacrifices — according to the US military, ethnic Samoans have the highest enlistment rate.
Many New Zealand soldiers of Samoan heritage also participated in World War II and recent conflicts in countries such as Afghanistan.
Having no standing army, Samoa contributes police officers to peacekeeping missions around the world.
"No doubt, the Anzac spirit lives on in the work of those servicemen and women currently involved in operations overseas including United Nation peacekeeping and humanitarian missions" said Fiame.
"Let us also take this time to reflect on the families and communities with loved ones currently deployed."
President of Returned Services Association and Deputy Prime Minister Tuala Tevaga Ponifasio expressed his gratitude to the Anzacs for their sacrifices but also paid tribute to Samoans who fought for independence.
"Today we paid tribute to those soldiers from New Zealand, Australia, Great Britain and all those Samoans who gave their lives for those nations,
"Our brothers and sisters who served in the United States Military . . . we salute and honour you.
"A lot of Samoans lost their lives during colonial times and were subjected to unfair treatment, their names are not written on these memorials but are written in our hearts,
"War is something we all hear about but we fail to comprehend, it's violent practice that is won not by weapons but by the hearts and minds of soldiers."
Fiji
Fiji contributed a total of 1255 volunteers (the majority being European expats) to World War 1, with 173 never returning home from Europe.
In World War II, the former British colony committed around 8000 troops to the Pacific War — one of the highest rates of enlistments from a Commonwealth country, 50 of whom died in the Solomon Islands campaign.
Prime Minister Sitiveni Rabuka paid his respects by laying a wreath at Fiji's National War Memorial Site in Suva where a dawn service was held.
New Zealand High Commissioner to Fiji, Charlotte Darlow, said Anzac Day celebrated a special bond between Fiji and the Anzacs.
"Standing here today, there is a shared sense of unity, comradeship, and collective security, but it is important to remember that today's peace comes from the hard work and sacrifice of previous generations," said Darlow.
"Fiji, Australia, and New Zealand, alongside other regional partners, have all been part of that story."
Tonga
In Nuku'alofa, the Tongan military hosted a dawn service at Pangai Lahi Park near Nuku'alofa's waterfront.
Tongans participated in both World Wars, with the Tonga Defence Force deploying two contingents to the Battle of Guadalcanal in 1942. Two Tongan soldiers were killed.
A New Zealand Defence Force representative along with High Commissioner Matthew Howell attended the service, where they commended Tonga for its contributions to World War 1.
"Ninety-one Tongan soldiers volunteered to fight in World War 1, 10 in the Australian Imperial Force, 62 in the New Zealand Expeditionary Force and 15 in the Maori Battalion, two died on the battlefield and another would succumb to disease," he said.
"Anzac Day is not just about those who served long ago, its also about those who continue to serve till this day."
This article is republished under a community partnership agreement with RNZ.