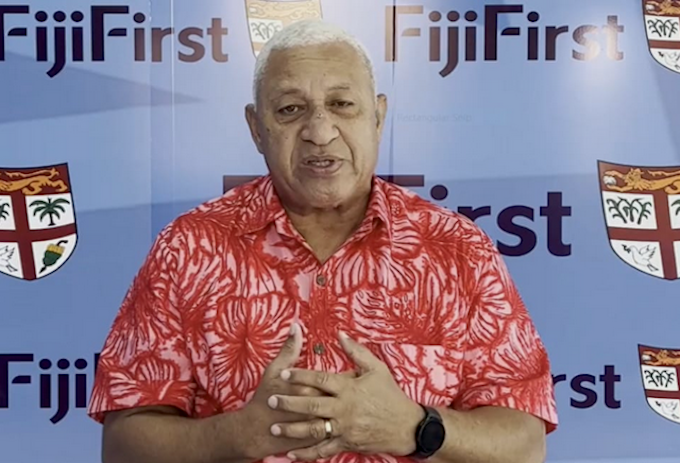 Former Fiji Prime Minister Voreqe Bainimarama has resigned from Parliament just two weeks after copping a three-year suspension for making seditious comments.
Bainimarama, who was the opposition leader, made the announcement via a five-minute video on Facebook today.
He said his suspension on February 17 was "unwarranted and most certainly unjustified".
"I did not swear nor did I make any racist or divisive comments," he said.
"In fact, the so-called offensive words could have been objected to by points of order as provided for under the Standing Orders. However, the decision has been made by Parliament through a vote and I have complied with the decision."
But the former coup leader-turned-PM, who was in charge of the country for almost 16 years before losing the 2022 Elections in December, said he would remain the leader of FijiFirst which was "the largest single political party in Parliament".
"I want to assure all our supporters and all Fijians that you will be seeing more of me on the ground as I engage with you to listen to your needs, wants and concerns," he said.
Guiding FijiFirst MPs
He said he would be guiding the FijiFirst MPs with his former attorney-general Aiyaz Sayed-Khaiyum.
"So they can continue to fight inside Parliament while we will engage more actively outside Parliament with our FijiFirst supporters and the growing number of unsatisfied Fijians who are now questioning their decision to vote for parties that seem to be not delivering on their promises."
Bainimarama's suspension also means that the opposition's numbers in Parliament will go down to 25. However, he will be replaced by the next ranked FijiFirst candidate from the 14 December election.
"From FijiFirst's perspective and also for the nearly 43 percent of voters in the 2022 General Elections, it is important that we maintain at all times our 26 seats in Parliament," Bainimarama said.
He said his party would prevent the incumbent coalition government "from running roughshod over our Constitution, breaches of which are taking place almost on a daily basis, and to highlight the lack of adherence to basic fundamentals of due process and procedural fairness".
Bainimarama has confirmed that FijiFirst will nominate former defence minister and disaster management minister Inia Seruiratu as the new opposition leader when Parliament sits for its next session at the end of the month.
This article is republished under a community partnership agreement with RNZ.