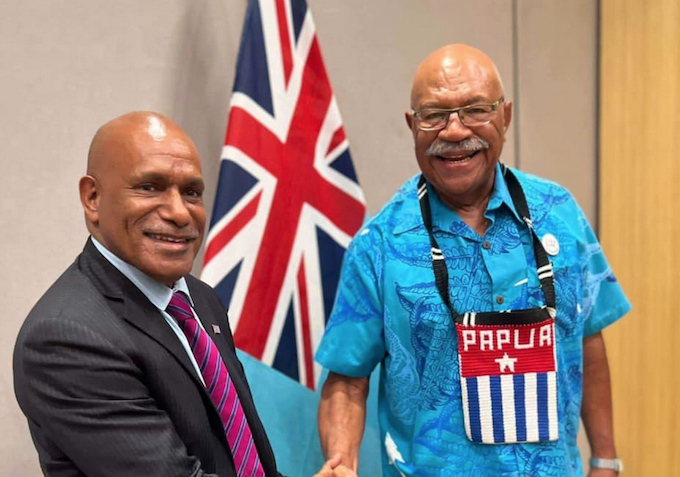 Indonesia has protested to the Fiji government after Prime Minister Sitiveni Rabuka met with a Papuan independence leader in a morale boost for the United Liberation Movement for West Papua, reports Benar News.
Prime Minister Rabuka, who was elected in December, also said he would support Papuan membership in the UN-recognised organisation Melanesian Spearhead Group.
Fiji's previous government for 16 years and Papua's neighbour, Papua New Guinea, have blocked such a membership in a bid to maintain good relations with Indonesia.
The meeting between Rabuka and exiled Benny Wenda, president of the London-based ULMWP that seeks independence from Indonesia, took place at a Pacific Islands Forum "unity" summit in the Fijian town of Nadi last week.
On Tuesday, Indonesian Foreign Ministry spokesman Teuku Faizasyah said Indonesia had sent a diplomatic note to Fiji.
"Indonesia expressed deep disappointment over the Fiji PM's meeting with someone who unilaterally claimed to represent the Papuan people in Indonesia," he said.
The United States and Australia are seeking closer security ties with Indonesia to counter China's influence in the region, says Benar News.
Morning Star flag
Rabuka's social media accounts posted a photo of him smiling while meeting Wenda and wearing a noken — a traditional string bag emblazoned with the Morning Star flag, the symbol of the Papua independence movement that is banned in Indonesia.
Rabuka's Twitter account said he would support the ULMWP gaining full Melanesian Spearhead Group (MSG) membership "because they are Melanesians" of the Pacific.
Yes, we will support them [United Liberation Movement for West Papua] because they are Melanesians. I am more hopeful [ULMWP gaining full MSG membership]. I am not taking it for granted. The dynamics may have changed slightly but the principles are the same. pic.twitter.com/9J8qpAVhak

— Sitiveni Rabuka (@slrabuka) February 23, 2023
The Papua region is known as West Papua among people in Pacific island countries and also among activists supporting independence.
Documented and alleged killings and abuses by Indonesian military and police, from the 1960s until the present day — along with impunity and the exploitation of the region's natural resources and widespread poverty — have fuelled local resentment against Indonesian rule, Benar News reports.
"Deploying aid and technical assistance to small island states scattered across the Pacific ocean, Indonesia has in recent years sought to neutralise criticism from some of those nations of its rule in Papua," said the news service.
While Benar News noted that Jakarta's assistance was small relative to long-standing donors such as Australia it was still significant, including funding the F$4 million (US$1.9 million) reconstruction of two boarding school dormitories destroyed by a tropical cyclone.
The MSG comprises Fiji, Papua New Guinea, Solomon Islands and Vanuatu, and the Kanak and Socialist National Liberation Front (FLNKS) of the indigenous Kanak independence movement in French-ruled New Caledonia. Indonesia is an associate member and the ULMWP is an observer.
The group's next meeting in July is in the capital Port Vila of Vanuatu, traditionally a strong supporter of West Papuan independence.