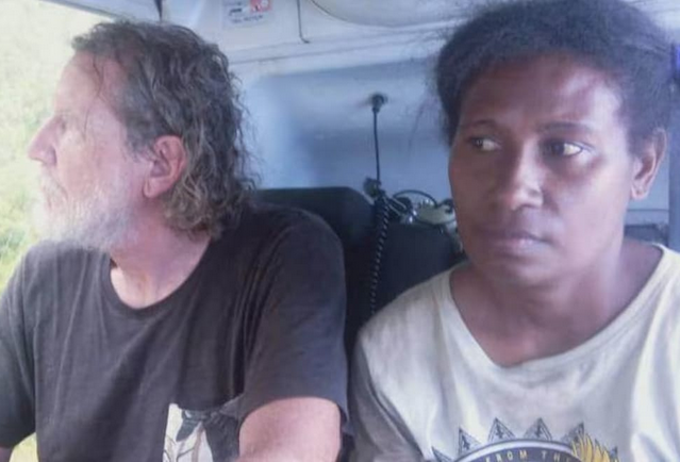 A New Zealand professor and his two Papua New Guinean colleagues have been released from captivity, more than a week after being kidnapped by an armed gang.
Archaeologist Professor Bryce Barker, who now lives in Australia and works with the University of Southern Queensland (USQ), was held alongside fellow members of his research team.
They were doing fieldwork in a remote part of PNG's Highlands when they were taken by a criminal gang from Hela Province who demanded a ransom for their freedom.
Their release brings to an end days of negotiations, and a complex security operation involving PNG police and defence personnel, in consultation with the Australian and New Zealand governments.
It comes two days after another woman who had also been taken was set free.
Prime Minister James Marape announced their release on his Facebook page, thanking Police Commissioner David Manning, the police force, military, leaders and community involved.
"We apologise to the families of those taken as hostages for ransom. It took us a while but the last three [captives] has [sic] been successfully returned through covert operations with no $K3.5m paid.
"To criminals, there is no profit in crime. We thank God that life was protected."
The Post-Courier had earlier reported that the kidnappers had demanded K3.5 million (NZ$1.6 million) for their release.
However, ABC News reports that it understood a ransom payment was discussed as part of the negotiations, although it was significantly smaller than the original amount demanded.
Mahuta praises the release
Foreign Minister Nanaia Mahuta praised the release on Twitter, welcoming their safe return.
Aotearoa New Zealand 🇳🇿welcomes the safe release of hostages in PNG including a NZer. Tenkiu tru for your leadership and cooperation governments of PNG 🇵🇬and Australia 🇦🇺. #tatoutatou

— Nanaia Mahuta (@NanaiaMahuta) February 26, 2023
Australian Foreign Minister Penny Wong thanked the PNG government "for its leadership in securing a safe and peaceful resolution".
She also thanked the "Australian and New Zealand officials who helped support this outcome".
The ABC named the released fellow members of his research team as Cathy Alex (set free on Wednesday), Jemina Haro and PhD student Teppsy Beni.
The ABC reported that on February 12, Barker had shared a picture of his arrival in PNG's capital on social media, captioning it simply "Port Moresby".
'Welcome to Port Moresby'
His friend Cathy Alex, a highly regarded local programme coordinator, replied: "Welcome to PNG".
The two would soon be reuniting and heading into the country's highlands as part of an ongoing archaeological research program with the University of Southern Queensland (USQ).
In a statement released to the ABC, USQ vice-chancellor Geraldine Mackenzie said the university was relieved to hear their much-loved colleague and his research team had been released.
"Professor Barker and his research team were in Papua New Guinea undertaking archaeological research," Ms Mackenzie said.
"Bryce is a highly regarded archaeologist and a valued colleague at USQ and in the wider archaeological community. He has many years experience in undertaking research in PNG.
"Our deepest thanks go to the governments of Papua New Guinea, Australia and New Zealand, and the many people who worked tirelessly during this extremely difficult and sensitive time to secure their release."
NZ pilot held in West Papua
In the neighbouring Indonesian-ruled province of Papua, another New Zealander, pilot Phillip Mehrtens, is still apparently in captivity with pro-independence rebels after he landed a plane in remote highlands near Nduga.
There was no new information about whether or not he would be released.
This article is republished under a community partnership agreement with RNZ.