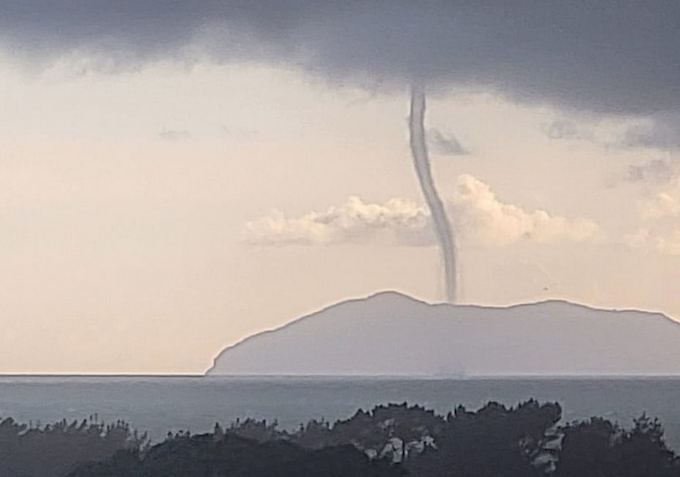 A tornado has torn through New Zealand's Bay of Plenty settlement of Waihi Beach ripping roofs off houses and cutting power to nearly 1500 properties as post-Cyclone Gabrielle extreme weather continued to impact on the North Island.
Footage shows the storm tearing through the area about 9am on Saturday.
MetService said a severe thunderstorm watch for the Bay of Plenty had been lifted just before 10am on Saturday, but there was potential for further stormy weather.
Meanwhile, more than 200 people spent the night sheltering in camps in Mangawhai in Northland on Friday night as several slips blocked exit routes, with the latest weather event still blowing through the North Island.
Overnight, Mangawhai residents who could not return home stayed over at schools in the Kaipara District.
MetService said the Mangawhai area received 300mm of rain over a seven-hour period.
Kaipara Civil Defence Controller John Burt said roads would be reassessed at first day light.
The majority of routes might remain closed due to major slips, including the main road between Kaiwaka and Mangawhai, he said.
Hawke's Bay under heavy rain warning
MetService has put a heavy rain warning in place for Hawke's Bay until 1pm on Saturday and a severe thunderstorm watch is in place until 5pm on Saturday.
Hawke's Bay could expect a further 70-120mm of rain about the ranges, and also away from the ranges north of Hastings (which includes the Esk Valley area and the Wairoa District), MetService said.
Hawke's Bay Emergency Management Controller Ian Macdonald said his biggest fear was if more rain than forecast fell.
Macdonald said localised downpours were a problem when silt was still around, but he believed the region was in a good position to cope.
"Plenty of resources at the moment, obviously we're now fully activated and have been for a week and a half, we've got lots of NZ Defence Force here, so you know we're in a good space if we do need to evacuate people."
Police said the number of people who remained uncontactable in Hawke's Bay and Tairāwhiti following Cyclone Gabrielle was 13 at 9pm on Friday — that is down from 56 people on Thursday evening.
The residents of Esk Valley were evacuated on Friday ahead of the heavy rain and Macdonald urged all Hawke's Bay residents to be prepared to evacuate if they needed to.
Hawke's Bay Civil Defence said a full assessment of Esk Valley would take place today.
It said the rainfall overnight was less than forecast, but MetService expects more rain across the region on Saturday.
Te Karaka residents advised to evacuate
Tairāwhiti Civil Defence Emergency Management on Saturday morning strongly recommended that people evacuate if they were in the Te Karaka township area.
The Waipaoa River at Te Karaka was expected to peak at 8 metres at 9am on Saturday.
In Gisborne, Mayor Rehette Stolz urged locals to seek help if they needed it this weekend, with the latest deluge likely causing more slips and flooding.
More atrocious weather had held back cyclone clean-up efforts and dampened people's spirits, she said.
It may mean more people would need support from council and Civil Defence, Stolz said.
"We might have missed people and we want to know if you need anything, so if you need to make contact with the Gisborne District Council Civil Defence please reach out, we are there to help you."
Tolaga Bay warning
Uawa Civil Defence in Tolaga Bay have urged people to stay off the roads as the Hikuwai river is currently at 11.5 metres.
The Hikuwai has begun to drop as rain has stopped in the area. State Highway 35 is closed from Okitu to Uawa due to flooding at Rototahi, SH2 at Ormond is also closed.
Meanwhile, staff from the National Emergency Management Agency and council are still working out how to make a risky debris dam safer, so locals can return home.
Sixty-four homes were evacuated in Tokomaru Bay on Thursday due to fears a debris dam on the Mangahauini River would fail during more heavy rain.
Stoltz said the dam had held up so far, and staff were working at pace to come up with a solution.
This article is republished under a community partnership agreement with RNZ.